GENERATION 5
---
---
Biography
ORPHANA ANDERSON was born Sep. 6, 1828, in Clarendon, Orleans, NY. She was living in Bergen, Genesee, NY at the time of the 1840 U. S. Census. Her parents were still living in Bergen at the time of the 1850 U. S. Census. Orphana was not living with her parents in 1850. By then she and SAMUEL were married and raising a family.

Based on the recorded birthplaces of their children, Rinaldo was born in New York while SAMUEL and ORPHANA were still living there. They then moved to Wisconsin, apparently very near Winslow, Stephenson, IL, as the birthplace of Galusha is referred to as Winslow, WI, in "Wilbores of America". JAY was born in 1854 in Bronson, MI, near Coldwater where ORPAHANA's brother was living. David Anderson, brother of ORPHANA, went to Coldwater, Branch, MI, in 1854, where he was a farmer. He was a colonel in the Civil War. His son, Seneca Benjamin Anderson, attended Kalamazoo College in 1871.


Orphana Anderson Wilbur
[photo courtesy of Ruth Ann Lindt]
After leaving Michigan, SAMUEL and ORPHANA settled in Illinois, first in Oneco, Stephenson, IL (1860 and 1865 Censuses), and then in Winslow, Stephenson, IL (1870 Census). SAMUEL owned an 80 acre farm in Section 24, the same section as JONATHAN LINCOLN's land. He was a member of the Christian Hollow Methodist Episcopal Church. He was allocated a burial plot in Christian Hollow cemetery. There were no deaths in the Wilbur family during their stay at Winslow, and the plot remains unused to this day.
SAMUEL WILBUR was living in Winslow, Stephenson, IL, at the time of the 1870 U. S. CENSUS and living in Garden Plain, Sedgwick, KS, at the time of the 1880 U. S. Census. Of the seven children listed in the 1870 Census, only Cora was living with SAMUEL and ORPHANA at the time of the 1880 Census, in Kansas. Several other children were in the Wichita area, living on their own.
The 1870 Census gives ORPHANA as the name of SAMUEL's wife, with a birthplace of New York. Her age is two years younger than SAMUEL. In 1880, his wife is erroneously listed as "SARAH", also born in New York, and also two years younger than SAMUEL. SAMUEL had a granddaughter named Orphana (daughter of Galusha), and a great granddaughter named Nellie Orphana (daughter of William Johnathan). SARAH appears to be a mistake by the census taker. In the 1900 Oklahoma Census, her name was listed as ORPHANA again.
In 1880, SAMUEL's occupation is given as farmer, and his age is 52. ORPHANA is shown as age 50. The ages of SAMUEL, ORPHANA, WALTER, and EFFIE are all shown 12 years older than for the Census ten years earlier. In 1870, SAMUEL's real estate is valued at $8,000, and his personal property at $1,000.
Several of the names appear in the Wichita City Directories. SAMUEL is listed in 1887, as being from Illinois. Fred is at the same address. Frank is listed from 1887-1891 as a grocery clerk, and a clerk at Fairmount College.
In 1889, SAMUEL made the run into Oklahoma at the first opening, securing a claim 12 miles northeast of Oklahoma City, Oklahoma, OK, where he lived for a number of years. Later he lived in Noble Township, near Perry, Noble, OK. He was living there at the time of the 1900 Census, and was enumerated with his son, Leon. In 1904, SAMUEL bought property in Tonkawa so he could be near his sons, Leon and Franklin.
SAMUEL died, Sep. 11, 1908, in Tonkawa, and is buried in the IOOF Cemetery in Blackwell, Kay, OK. After SAMUEL died, ORPHANA returned to Wichita where she lived with her son, Galusha. She was enumerated with him and his family in the 1910 Census. Later, in life, she lived with her daughter Cora, in Arbuckle, CA. ORPHANA died Mar. 22, 1921, in Arbuckle. Her remains were brought back to Tonkawa for services, and she was laid to rest next to her husband, SAMUEL, at the IOOF Cemetery in Blackwell, OK..
________________________________________

Rinaldo Flavius Wilbur
Rinaldo married Geraldine Chawgo, of Winslow, on Mar. 24, 1872, the first of the three elder Wilbur brothers to marry. Geraldine was born Mar 25, 1849, in Jefferson County, NY, daughter of Henry and Harriet Chawgo. She came to Winslow while very young. According to her obituary in the Lena Star, she married "Prof. R. F. Wilbur" ... and "united with the M. E. Church at age 17" ... Lena Star, March 10, 1882.
The reference to Rinaldo as a "Professor" would indicate that he taught school in Winslow, even before the Lincoln School was built. Early Winslow records indicate that he taught at a two story, two room school on Hubbard Street in Winslow. His interest in education continued after he moved to Kansas. He was a school superintendent in Linn County, KS, in 1887.
A Pleasanton, Linn, KS, biography states that, "R. F. Wilbur, Attorney at Law, has recently located in this city as a lawyer but is well known all over the county, having served one term as County Superintendent. Mr. Wilbur is well educated in the law, a close student and tenacious. He has been very successful in his practice and is considered one of the brightest legal lights in the County."
The University of Wisconsin Annual Report of 1871 shows Rinaldo Flavius Wilbur to be a Prepatory Student. The Alumni Directory, 1849-1911 shows that Rinaldo received his law degree in 1878.
Rinaldo married second, Nellie J. Dewey, age 24, of nearby Farlinville. They wed Dec. 27, 1885. She was born in Arkansas, the daughter of Henry and Sarah (Fenney) Dewey.
Rinaldo was in Wichita in 1900 (U.S. Census) living with "Nelly" and three children: Harry (b. Jan 1887), Levi B. (b. Jun 1888) and Ruth L. (b. Apr 1891). Harry was still living in Wichita in 1910, married to Dora R. In 1920 they were living in Ochiltree County, TX. Then in 1930 they were in Canadian, Hemphill, TX. Harry and Dora had three children: Harry Jr. (b. Oct 1912), Virginia (b. abt 1915), and Earl L. (b. Oct 1920).
In 1908, Rinaldo was living in Huntington, OR, where he was principal of the Huntington Public School. Meanwhile, back in Wichita, Nellie listed herself in the city directory as the widow of Rinaldo. She was a grocer in Wichita, and later moved to a small town near Elkhart in southwestern Kansas. The town was named Tice. In 1913, Nellie built the first post office there, and the town became known as Wilburton. Her children remained in the area, but Nellie moved to California
Rinaldo married a third time on Sep. 02, 1908, in Portland, Multnomah, OR. He was living with his third wife, Harriett, in Newport, Lincoln, OR, at the time of the 1910 U.S. Census. Rinaldo gave his occupation as public school principal. Also, living with him were two nephews, John A. Sutherland, age 9, and George A. Sutherland, age 8. Both nephews were born in Oregon. Harriett was born in Iowa. Harriett was listed in the 1920 and 1930 census reports for Portland. Her marital status for those two censuses was divorced.
Rinaldo, age 81, was living in Williams, Colusa, CA, in 1930. His sister, Cora, and several of her sons were living nearby. They were all enumerated on the same census page that year. The sons were all "orchardists" in Williams. Rinaldo died there July 1, 1934.
________________________________________

Galusha Anderson Wilbur
[photo courtesy of Ruth Ann Lindt]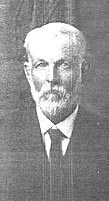 Galusha came from Illinois to Garden Plain in 1878. He was married to Susan Jane Pyle, of Winslow, and had two daughters, Lestie, age 6, and Bertha, age 4, at the time of the 1880 Census. Susan and the two girls were born in Illinois. Galusha was born in Wisconsin (see both the 1870 and 1880 censuses, and his obituary). Since he was older than WALTER JAY, he would have been born, in Wisconsin, before JAY was born in Bronson, MI.
After moving to Garden Plain, Galusha and Susan had more children, and at the time of the 1900 Census, Galusha, Susan, and their six children (Lestie, Bertha, Elwyn, Gwynn, Orphana, and Alta) were living in Delano Township, Sedgwick, KS. At his death, Galusha was survived by all four daughters and two sons. A grandson of Galusha, Lawrence E. Wilbur was an educator in Wichita in the early 1900's. Lawrence E. Wilbur Middle School in Wichita is named for him.
In 1910, ORPHANA was living with Galusha and his family in Wichita. But, ten years later Galusha was widowed and was living just north of Wichita, in Harvey County with his daughter Lestie.
Galusha, his wife Susan, son Elwyn, and his wife Olive are all buried at Highland Cemetery, Wichita, Block 2, Lot 120.
________________________________________

Cora R. Wilbur
Cora R., the daughter of SAMUEL and ORPHANA, is listed as a school teacher, living at home. She appears to be the same person listed as Caroline for the 1870 Census. However her age, 18, in 1880 is only 9 years older than in the previous Census, a discrepancy of one year. Her place of birth is given as Illinois in the 1870 Census, and Wisconsin in the 1880 Census. Cora married George S. Wesner on January 3, 1881. He was listed as a "boarder" at the Galusha residence in the 1880 Census. She was living in Arbuckle, CA, in 1938, at the time of Galusha's death. Cora had 7 children, George Jr., Ira, Clara, Fred, Bertha, Byron, and Wilbur.
________________________________________

Franklin Wilbur
Franklin, the son of SAMUEL and ORPHANA married Margaret Patience "Maggie" Holland, Nov. 8, 1885. They had three children, all born in Wichita. Lewis H., born Jul. 29, 1887, died at the age of six, Aug. 12, 1893. Earl F., born Nov. 27, 1889, died at the age of 76, Dec. 1, 1965. Both are buried at Pleasant Ridge Cemetery, Wichita. Their third child was B. Louise., born in 1894.
"Frank" Wilbur is listed in the Wichita City Directories from 1886 to 1891, first as a grocery clerk and later as a clerk at Fairmount College.
________________________________________

Frederic Wilbur
Frederic, the son of SAMUEL and ORPHANA, was born in 1869 in Illinois. In 1938, he was living in Ponca City, OK. He is listed in the 1887 Wichita City Directory as a son of Samuel Wilbur, both from Illinois. His children were Floy, Maude, and Iva.
________________________________________

Leon Wilbur
Leon, the son of SAMUEL and ORPHANA, married Laura Van Deventer, in 1896, and by 1899 they had moved to Oklahoma. There first child, Philip, was born in Oklahoma in that year. In the 1900 Census, they were living in Noble township, Noble, OK, and were recorded with SAMUEL and ORPHANA. Leon died in 1950. His wife, Laura, died in 1966. Both are buried at IOOF Cemetery in Blackwell, OK. They had three sons, Philip, Ralph, and Orval.


---
Initial 1889 Oklahoma Land Opening
Less than three weeks after taking office, President Benjamin Harrison issued a proclamation setting the date and time for the opening of the Oklahoma District to settlement. The initial opening was for an "island" of land completely surrounded by indian occupied territory. The land opening was scheduled for noon, April 22, 1889.
Several days before the opening the prospective homesteaders entered the Indian Territory and camped along the border of the Oklahoma District. By the morning of April 22, more than 50,000 settlers were camped there, and were joined by thousands more arriving by train from Kansas. At noon, guns were fired, and a mad scramble ensued. Some were looking for 160-acre tracts to homestead. Others were seeking lots at locations designated for towns. It was as much as twenty-five miles from the border to the center of the District.
To stake a claim the homesteader needed to be the first to locate the marker for the tract and drive a wooden stake into the ground, having a witness to later testify on his behalf. They would later file their claim with the government land office, and after settling on the land and living there for five years, they would receive a "patent" or deed for the land.
SAMUEL secured a claim twelve miles northeast of Oklahoma City, where he lived for several years. It is not clear if he, himself, staked the claim, or if he purchased the claim from a claimant. It is also unclear if he lived on the land continously for the required five years.
---
Cherokee Strip Opening of 1893
The Cherokee Strip was a tract of land 200 miles long (east to west) and 57 miles wide, bordering the southern border of Kansas. The counties of Noble and Kay were part of that land.
At noon, on Sep. 16, 1893, as guns were fired, hundreds of settlers entered the area by train, buggy, and horses, hoping to stake claim to one of the 160-acre tracts. It is not certain if the Wilbur family was successful in obtaining land in this manner. But, Leon was one of the early land owners in Noble township of Noble County. It is possible that he purchased the land from someone else who had successfully staked claim.
The Cherokee run was the biggest (six million acres) and the last. The government realized a better system was necessary. Subsequent distributions of indian land were done by lottery or sealed bids.
---
The Tonkawa News
March 31, 1921
Mr. and Mrs. Fred Wilbur were guests Wednesday of Mr. and Mrs. Tom Brewer. They came down from their home in Eldorado, Kansas, to attend Mr. Wilbur's mother's funeral, which will be held in Blackwell Thursday or Friday. Grandmother Wilbur has made her home for a number of years with her daughter in California and her remains are being brought from the west to be laid beside her husband's in the Blackwell cemetery. Mr. Wilbur passed away twelve years ago when they were living in Tonkawa.
________________________________________

Census Records


[click on link below, then click on census image to enlarge it]
| | | |
| --- | --- | --- |
| 1860 Oneco, IL Census | - | SAMUEL, ORPHANA, JAY, and other children. |
| 1856 Union, IA Census | - | SAMUEL, ORPHANA, JAY, and other children. |
| 1870 Winslow, IL Census | - | SAMUEL - bottom of page. |
| 1870 Winslow, IL Census | - | ORPHANA, JAY, and other children - top of page. |
| 1880 Garden Plain, KS Census | - | SAMUEL, ORPHANA, and Cora. |
| 1900 Noble, OK Census | - | SAMUEL, ORPHANA. |
| 1910 Delano. KS Census | - | ORPHANA, Galusha, and grandchildren. |
| 1920 Arbuckle, CA Census | - | ORPHANA, and grandchildren. |
---
Children
born
marr
died
Rinaldo Flavius
wife Geraldine Chawgo
wife Nellie J. Dewey
wife Harriett B. _______
-1849
03-25-1849
04-04-1862
-1865

03-24-1872
12-27-1885
09-02-1908

03-02-1882


Galusha Anderson
wife Susan Jane Pyle
01-25-1851
02-12-1856

05-13-1873
12-31-1938
09-13-1912
WALTER JAY WILBUR
wife EFFIE MARIA LINCOLN
01-15-1854
06-17-1856

08-12-1874
03-20-1925
10-29-1921
Cora R.
husband George S. Wesner
09-16-1860
12- -1849

01-03-1881
06-13-1950

Franklin
wife Margaret "Maggie" Patience Holland
-1864
-1867

11-08-1885
before-1918
01-01-1957
Clara
-1867
-1879
Frederic
husband Winnefred Ryant
06-11-1869


12-18-1894


Leon
wife Laura Van Deventer
05- -1872
02- -1877

11-15-1896
-1950
- 1966
---
Chronology of Samuel and Orphana (Anderson) Wilbur
08-12-1826 -
Samuel born in New York.
1849 -
Rinaldo (s) born in New York.
01-25-1851 -
Galusha (s) born in Wisconsin.
01-15-1854 -
Walter Jay (s) born in Bronson, Branch, Michigan.
1860 -
U. S. Census, Oneco, Stephenson, Illinois.
1861 -
Cora R. (s) (Caroline) born in Illinois; 3 more children born in IL next 8 yrs.
1870 -
U. S. Census, Winslow, Stephenson, Illinois.
01-26-1872 -
Samuel borrows $1000 from Seneca, who is living in Genesee, NY.
1878 -
Galusha (s) settled in Garden Plain, Sedgwick, Kansas.
03-24-1879 -
Robert (j) born in Winslow, Stephenson, Illinois.
1880 -
U. S. Census, Garden Plain, Sedgwick, Kansas.
07-08-1882 -
William Jonathan (j) born in Liberty, Linn, Kansas.
-1885 -
Samuel and Orphana (and Frank) 1885 Census, Liberty, Linn, KS.
1886 -
Wichita City Directory - Frank (s), clerk at Wichita Grocery.
1887 -
Wichita City Directory - Frank (s) (Wilbur & Boyd, grocers).
<"> -
Wichita City Directory - Samuel ("from Illinois") living at 1326 Ida,
-
with (his son) Fred (s) ("from Illinois"); Fred (s) listed as teamster.
1887 -
R. F. Wilbur is School Superintendent in Linn County (Rinaldo)
11-18-1888 -
Robert (j) died in Liberty, Linn, Kansas.
09-03-1889 -
Nellie (j) born in Liberty, Linn, Kansas.
1890 -
Wichita City Directory - Frank (s), clerk at Fairmount College.
1891 -
Wichita City Directory - Frank (s), clerk living at 326 Riverview.
<"> -
Wichita City Directory - William Jonathan (j) working for Kansas City co.
12-21-1892 -
Sam (j) born in Wichita, Sedgwick, Kansas.
<"> -
Wichita City Directory - Jay (s), gardner, living at 1457 Palisade.
1895 -
State Census, Wichita, Sedgwick, Kansas; only Jay (s) and family listed.
1900 -
U. S. Census, Wichita, Sedgwick, Kansas; only Jay (s) and family listed.
1900 -
Herbert (j) listed in Kansas City, MO Census.
1900 -
U. S. Census, Noble, OK; Samuel and Orphana listed.
1902 -
Wichita City Directory - Sam not listed, Jay (s) and William Jonathan (j)
-
living at 1467 S. Water.
1903-04 -
Wichita City Directory - Sam living at 1503 S. Water, Jay and William
-
Jonathan (j) living at 1467 S. Water.
1908 -
Herbert graduated from University Medical College, Kansas City, MO.
1908 -
Herbert moved his family to Granby, Newton, MO.
09-11-1908 -
Samuel dies in Tonkawa, Kay, OK.
1910 -
Orphana living in Wichita with her son, Galusha (s).
03-22-1921 -
Orphana dies in Arbuckle, Colousa, CA.
(s) child of Samuel (j) child of Jay
---
[HOME PAGE] [INDIVIDUAL NAMES] [SURNAMES] [FAMILY TREE]