GENERATION 6
---
---
Biography
In the fall of 1872, the following article appeared in the Le Roy newspaper, describing a family Thanksgiving dinner at the home of SENECA and LUCY (WEBB) ANDERSON, which also served as a celebration of the 50th wedding anniversary of this couple.
Quoting from the article, "They were both born in Massachusetts, Mr. Anderson in Hampshire County, in the year 1798, and his wife, whose maiden name was Lucy Webb, in Berkshire County, in the year 1803. They were among the early pioneers of this section."
In the year 1805, Mr. Anderson's father moved from Massachusetts, with his family, to Middlebury, Wyoming county, this State, and two years later came to Le Roy, settling some two miles southeast of the village on what is now known as the Weld farm. As there was no choice in those days for a young man but hard work, Mr. Anderson can no doubt tell by bitter experience, how the dense forests in this region, even where our village now stands, gradually gave way before the pioneer's axe.
In the year 1811, Mr. Webb, Mrs. Anderson's father, moved with his family from Massachusetts and came as far west as the Genesee river, settling near Avon. At a later period he removed to Caledonia, and in 1817 came to Le Roy, settling upon what is now know as the Wakely farm. In the year 1822, his oldest daughter, Lucy, married to Mr. Anderson, who removed with her to Bergen, settling in the northern part of the town. Here Mr. and Mrs. Anderson remained until the year 1867, having reared a family of eight children, three sons and five daughters, and having made for themselves a fine and comfortable home.
But as now all their children were married and gone from home, and the care of the farm began to be too much for their advancing age, the old homestead was sold and they returned to Le Roy to spend their remaining days amid the old and familiar scenes of their youth.
On this, their fiftieth anniversary day, all their children save one, who was unavoidably detained and a goodly number of other relatives and friends assembled at their house, not so much to have what is termed in modern times a golden wedding, but a general family reunion. Several beautiful presents, however, were received during the day, and the time was passed pleasantly in sociality until three o'clock announced the hour of dinner. Then, just as we were taking our seats at the table, Rev. Coleman, of Chicago, stepped forward, and in a very pleasant manner presented Mr. and Mrs. Anderson with a beautiful silver, gold lined tea set, together with a pair of vases of the same fashion and a silver castor.
Though Mr. Anderson was so unmanned that he could say but little, yet, taking the thankfulness which we saw in his countenance for a speech, we all sat down, fifty in number, to a most bountiful dinner. At the close of the dinner some of the younger members of the family sang a song prepared for the occasion, which told, if not in a very poetic way, yet in one that seemed to please, of the courtship of the old people, their pioneer life, and the peculiarities of their children.
Prof. Anderson, of Newton, then spoke for a few minutes, referring to their early lives, when they all lived at home together. After some more music, Mr. D. H. Anderson read an original poem, which was richly enjoyed by all. It told the story of their lives when children, of the old log house, of the stone by the fireplace on which the disobedient were required to sit - all was happily brought in. The company then adjourned from the table to spend the evening telling old stories, singing old songs, making speeches and having a good time generally. Everyone's storybag was well emptied, and his speech-making capacity well tested.
Dr. Whelan told "Brother Crawford's Farewell" with great effect, while the Professor from Newton brought down the house with his "Gape Seed" story. Correspondence from absent friends were read, and at a reasonable hour the gathering broke up, all avowing it to have been among the happiest occasion of their lives.
The above article was written in 1872, SENECA being age 74 and LUCY age 69. The dinner was held at their house on South Street in Le Roy, next door to their daughter, Bellona.


________________________________________
In the book, When Neighbors Were Neighbors, written by Galusha Anderson, SENECA is described as being 6 foot tall, sturdy and strong. LUCY is said to be 5 foot 7 inches tall and plump. SENECA had little schooling, but learned to read and write.
The book goes on to say that as soon as age permitted, near the close of the War of 1812, SENECA enlisted as a Private, and marched with the regiment to Buffalo. The war ended before he saw combat.
After the war, SENECA returned to Genesee County, and bought a farm of 100 acres in Bergen, at the northern edge of the county. He cleared the land and built a log cabin and barn. He then asked for LUCY's hand in marriage. They married and moved to the farm in late 1822. Their first child, Bellona, was born the next year.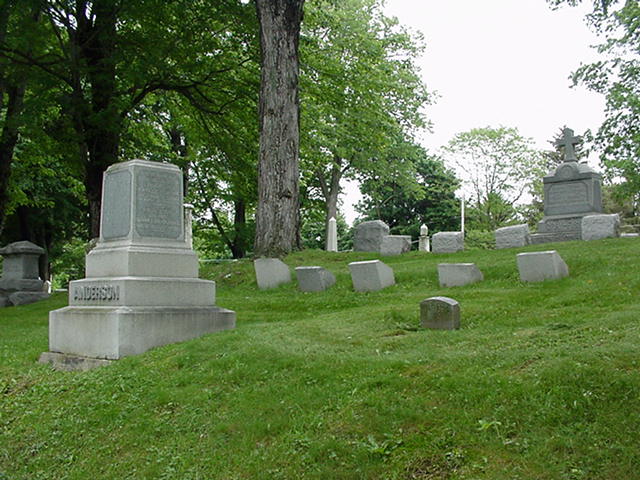 Anderson Monument
Machpelah Cemetery
SENECA was a benevolent and generous man, always placing honor first in his business and personal dealings.
Luman Wakeman is listed as a laborer in the 1850 Census. Perhaps he is the nephew of RUTH WAKEMAN, which would make him a first cousin of SAMUEL WILBUR, husband of ORPHANA.
10 years later, in the 1860 Census, a 7 year-old male child, Ralph Whelan, is reported living with SENECA and LUCY. On the same page of the Census appears the family of James and Harmony Whelan, with two children. Harmony is the daughter of SENECA and LUCY, and Ralph is her son.
On Jan. 26, 1872, a Mortgage Deed was executed between SAMUEL and ORPHANA WILBUR and SENECA. The deed was executed in Stephenson County, IL, in the amount of one thousand dollars, with SAMUEL's property in Winslow as collateral. A release was ordered and is recorded in Release Book "A", pp. 45-46.
The final tribute to SENECA came in his obituary. "... one of our most respected citizens. Last Thursday, Mr. Anderson suffered a stroke of paralysis and gradually sank until his death Monday forenoon, at the age of 83 years and 8 months. It was not the length of days that made Deacon Anderson's life remarkable, but the influences that went out from it, and especially the gift he bestowed on the world in carefully trained and worthy children."
SENECA died Mar. 27, 1882 and LUCY ten years later. They are both buried at Machpelah Cemetery in Le Roy. In his will, SENECA provided for the erection of a family monument. The year of birth of LUCY is 1803 on the monument. However, the vital records of Otis, MA, where she was born, have 1804 as her year of birth. 1804 would seem to be the more likely year, given the birthdates of her siblings.

________________________________________

Col. David Anderson
David, upon reaching manhood, was first a teacher in New York, and then in Michigan. He came to Branch County, Michigan in 1854. He farmed there until 1862, at which time he signed up for the Civil War, was commissioned a Lieutenant, and formed his Company. David, eventually, was promoted to Colonel, serving in Company H of the 19th Michigan Voluntary Infantry, which was the first regiment to enter Atlanta, after the Battle of Peachtree Creek.

His wife, Lovisa, was the daughter of Benjamin and Anna (Shedd) Throop. After the War, David returned to Michigan and, along with his brother Holton, was engaged in the lumber and mercantile business in Berlamont, MI. In 1872, he was elected to the Michigan state senate, serving one term. He died Jun. 16, 1911, and is buried at Breedsville Cemetery, Van Buren County, MI, alongside his wife Lovisa.


________________________________________

Galusha Anderson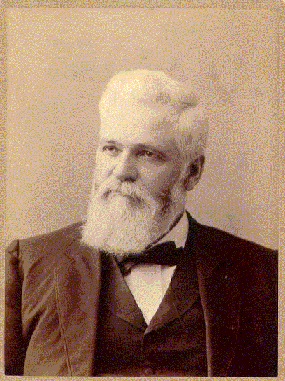 Galusha Anderson
Galusha Anderson graduated with high honors from the University of Rochester in 1854 and from Rochester Theological Seminary two years later. Although his father was a strict Presbyterian, Galusha became distinguished as a preacher of the Baptist denomination.
He was ordained pastor and took charge of the Baptist church at Janesville, WI, in 1856. His next pulpit was in St. Louis where he was the pastor of the Second Baptist church from 1858 to 1866, during the tumultuous times of the Civil War. It was located at the corner of Sixth and Locust Streets. His beliefs were very much pro-union and anti-slavery, as described in his book, A Border City During the Civil War, published in 1908.

He was called in 1866 from his Church in St. Louis to the professorship of homiletics, Church polity, and pastoral duties, in the Newton (MA) Theological Institute. From 1873 to 1878 he preached in Brooklyn, and then in Chicago. In 1878 he became professor in the theological seminary that later became part of the University of Chicago system.

In 1885 he became pastor of the First Baptist Church of Salem, MA, and was called from there to be President of Denison University (1887-1890). In 1890, he resigned the presidency and accepted a professorship in the Baptist Theological Seminary, Chicago.

The University of Chicago was founded by John D. Rockefeller in 1891. In 1892, Galusha accepted the chair of homiletics in the Divinity School of the University, and in 1906 professor-emeritus.

He returned back to Newton, where he lived with his son. He died at the home of his son in Newton, July 20, 1918.

________________________________________

Census Records


[click on link below, then click on census image to enlarge it]
---
Children
born
marr
died
Bellona
husband Levi Bissell
09-07-1823
04-12-1819

04-29-1845
09-12-1911
09-23-1888
David
wife Lovisa Throop
11-26-1824
03-03-1827

03-18-1846
06-16-1911
11-04-1904
Harmony
husband James Whelan
01-19-1826
09-23-1827

09-17-1849
09-18-1911
04-14-1892
Lucy
husband William B. Whelan
02-16-1827
01-09-1826

02-26-1849
02-24-1904
03-07-1855
ORPHANA ANDERSON
husband SAMUEL WILBUR
09-06-1828
08-12-1826

10-13-1847
03-22-1921
09-11-1908
D. Holton
08-26-1830
03-02-1914
Galusha
wife Selima Dorr
wife Mary Eleanor Roberts
03-07-1832

-c1841

-1856
04-23-1861
07-20-1918
03-08-1860
06-11-1916
Dell Hannah
husband Arvin F. Whelan
12-10-1834
07-01-1830

03-29-1857
02-09-1916
01-17-1890
---
[HOME PAGE] [INDIVIDUAL NAMES] [SURNAMES] [FAMILY TREE]