bus stop in Mellerud
PETER OLSSON was born Mar. 23, 1817, at Bön, Gestad, Älvsborg, Sweden. He married first Stina Svensdotter, who was born July 1, 1817, in Holm. They married on Apr. 11, 1840, in Bolstad, Sweden, and had seven children. Stina died on Jan. 28, 1857, at the Fagerlid homestead in Markustorp, Holm, Sweden. The homestead is no longer farmland, having been consumed by urban development. But, the name has survived. A school now stands on the land once farmed by PETER - it is Fagerlidsskolan. Nearby is the Fagerlid bus stop.
STINA LISA ERIKSDOTTER was born on Apr. 8, 1834, at Galmen, Ånimskog, Älvsborg, Sweden. She married PETER on Sep. 10, 1858, in Holm, Sweden. PETER was said to have had "one of the best farms in Dalsland." They had ten children, two of which did not survive. The children were born in the 1860's and 1870's, all at the homestead Fagerlid, in Markustorp, just south of Mellerud. By then the mining industry had withered away.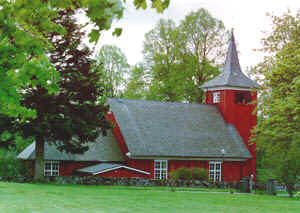 Skållerud Church It was replaced for a short while by the timber and paper mill business. But those, such as PETER, who were farmers suffered from poverty and famine. During the second half of the 19th century there was a wave of emigration to America. On Aug. 10, 1883, PETER and STINA moved to Kasen in Skållerud, and during the following years five of their children immigrated to America..
STINA died of lungsot [tuberculosis] on April 16, 1898, at Kasan, Skållerud, Sweden, and is buried at Skållerud Church, on Road 45, 6 km SSE of Håverud. It is a beautiful 17th century church, made of wood and painted red. It is often referred to as "the most beautiful church in Dalsland." After 1900, PETER lived with his eldest child, Kristina. He died July 1, 1907, while living with Kristina in Bolstad. In the dödbok [death book] for Bolstad parish, PETER is listed as inhyses [lodger] at Hagen södre at the time of his death.

________________________________________

Kristina Petersdotter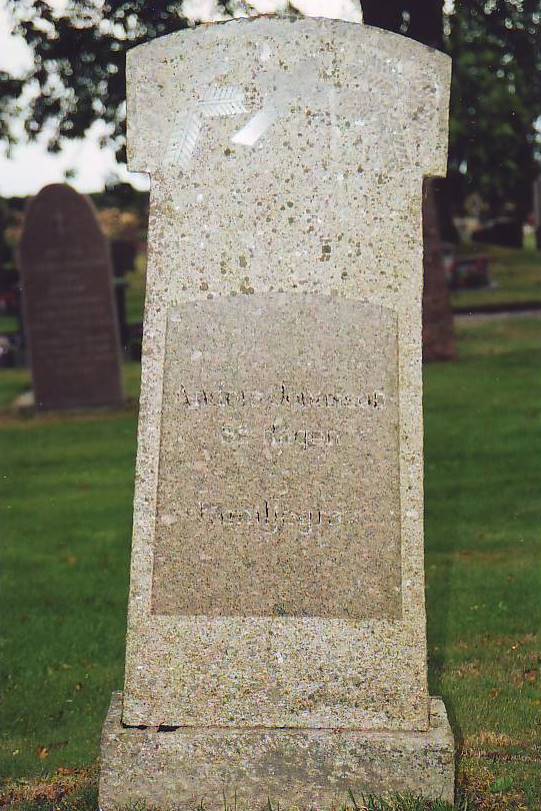 Bolstad Churchyard
Kristina married Anders Jonasson on Dec. 29, 1873, and they moved to södra Hagen, Bolstad the following year. A stone marker for the familjgrav stands in the churchyard of Bolstads kyrka. They had five children:


children of Kristina Petersdotter
Stina Andersdotter
born
06-14-1874
died
-1874
Lars Johan Andersson
born
11-12-1875
died
01-22-1917
Augusta Andersdotter
born
10-25-1883
died
05-30-1962
Emma Andersdotter
born
10-15-18__
died
Anna Sofia Andersdotter
emigrated to America
________________________________________

Sven Fredrik Peterson
Sven Fredrik and his wife came to America, leaving Grinstad on May 7, 1886, and settled in Peale, Clearfield, PA. Sven died there Mar. 31, 1913. Britta died there Apr. 4, 1923. Britta went by the name May in America. They had two children, Selma Maria and Hulda Amalia.

                       date        ship       from       to     final destination    
 Sven Fredrik      May  7, 1886    Rollo    Grinstad    Hull    Chicago 
 Sven Fredrik      May  6, 1892    Romeo    Grinstad    Hull    Clearfield, PA 

________________________________________

Anna Greta Petersdotter
Anna Greta never married. She continued to live with the family when they moved to Skållerud. She died of hjärtlidande [heart failure] in 1899, the year following the death of her mother. That was the year her sister Augusta left for America. Anna Greta was listed as hemmadotter [home daughter - single living at home]. When Anna Greta died, PETER was all alone at Kasen. He went to live with his daughter Kristina in Bolstad.


________________________________________

Olof Peterson
Olof moved from Markustorp, Holm to nearby Hassle, Holm. He stayed in Hassle the remainder of his life, until he died there Oct. 19, 1895. Olof and his wife, Stina Eriksdotter, had three children:


children of Olof Peterson
Anna Sofia
born
12-15-1878
died
Jenny
born
12-16-1880
died
Emma Kristina
born
10-01-1882
died
Source: Hassle husförhör (1880-1895)
________________________________________

Maja Katarina "Katherine" Petersdotter
Maja Katarina moved with the family to Kasen. In 1885, she moved away from Kasen, but returned in 1887. Then on Apr. 1, 1892, she moved to Oslo, Norway. She married and had two children, Harold and Anna Simmons. The circumstances of "Katherine" and her husband are unknown, but the two young children immigrated to America in 1905. Harold was living with his Aunt Hannah and her family in Duluth, MN, in 1920.
Anna married Franklin Horace Haws about 1923, and they were living in Minneapolis, MN, in 1930 with a son Franklin Harold Haws. Dr. Franklin Haws practiced medicine in Minneapolis. Anna continued living in the Twin Cities area until her death in 1978.


children of Maja Katarina Petersdotter
Harold Simmons
born
-1894
died
Anna Marie Simmons
born
09-09-1899
died
08-26-1978
________________________________________

Children of second marriage - Emigration
Five of the children went to America in the late 1880's and early 1890's. Johan was the first to emigrate, leaving on December 2, 1887, from Kasan, Skållerud. Four years later, Ulrika (widow of Lars) went with her two children. Johanna went in the same year, leaving from Gustavi, Göteborg. KARL was the next to emigrate, leaving Kasan, Skållerud on April 1, 1892. He embarked from Göteborg on April 15, 1892. Axel was living at Forsbo, Skållerud, at the time he left on April 14, 1893. Augusta left on August 8, 1898, from Kasan, Skållerud.

                              date        ship       from       to     final destination    
 Johan (John)             Dec  2, 1887             Skållerud
 Ulrika (wife of Lars)    Sep 18, 1891    Ariosto  Stockholm           Worcester, Mass
 Johanna (Hannah) E.      Apr 24, 1891    Romeo      Gtbg      Hull    Amerika        
 KARL (CHARLES)           Apr 15, 1892    Ariosto  Skållerud   Hull
 Axel                     Apr 21, 1893    Rollo    Skållerud   Hull
 Augusta                  Aug 12, 1898    Romeo    Skållerud   Hull    New York 



[Source: Ancestry.com - Gothenburg, Sweden, Passenger Lists, 1869-1951]



________________________________________

Lars Peterson Dahl
Lars Peterson Dahl was the only family member, that we know, who took a second last name. In Swedish tradition, it was common for a person to attach a second name, often the name of the family farm. In this case, Dahl is probably a reference to the homeland of Dalsland.
Lars moved from Markustorp to Stockholm. He died Mar. 6, 1891, while living on Swedenborgsgatan in Södermalm [see map], in the central part of Stockholm. His wife, Ulrika, was born in Norra Fågelås. She left for America Sep. 18, 1891, and settled in Worcester, MA, with their two children, Lars Gosta Dahl and Elsa Ulrika Dahl. "Gosta" was a successful stock broker in Worcester. Elsa taught public school there. Passenger ship records show that Lars and Elsa made a number of trips back to Sweden in the 1930's and 1940's.
In the early 1950's, Lars married. His wife's name was Karin. He died Nov. 2, 1955. Karin is listed in the 1956 Polk Directory as "widow of Lars Dahl."
Elsa died Dec. 12, 1960, leaving no family survivors. Her estate went to her cousins, the grandchildren of PETER OLSSON and STINA ERIKSDOTTER.


________________________________________

Axel Peterson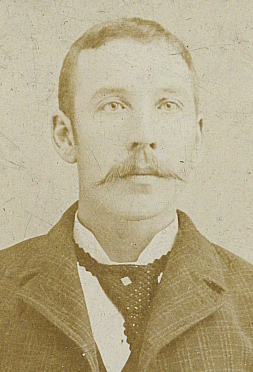 Axel Peterson
photo courtesy Suzanne Sears
Axel married in 1890, and he and Ida began raising a family. Ida's parents were opposed to the children immigrating to America at such a young age. So, in 1893, Axel came by himself to Duluth, St. Louis, MN. He lived at a boarding house in Duluth with his brother, John. The house was at 522 Lake Avenue South, since torn down, and now the location of Grandma's Saloon and Grill. He found work as a carpenter and Ida came two years later, bringing their two young daughters.
In the 1900 Census for Ward 9, St. Paul, Ramsey, MN, the family is found living in a rented house at 119 Sherburne Ave, in an area near the capitol called Frogtown, where he was a laborer. In 1905, Axel was living at 480 Blair St., in St. Paul. His brother CHARLES was living with the family. In 1910, Axel was living at 944 Albemarle St., in St. Paul. His occupation was engineer - stone quarry.
Axel died in 1915. His widow, Ida, is listed in the 1920 census, with four children living with her. Olga is a clerk, Esther a stenographer, and Walter a night reporter for the newspaper. In 1930, Ida was living with her daughter Esther and Esther's husband Vernon Smith.


________________________________________

Johan (John) Peterson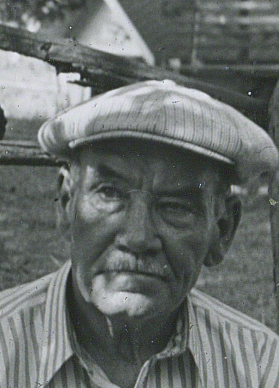 John Peterson
John immigrated to America in 1887. John appears in the 1895 state census, living at at a boarding house in Duluth with his brother, Axel. His occupation is given as engineer, and he stated he had been a resident of Minnesota for seven years.
In the 1900 Census for Ward 9, St. Paul, MN, he is living at 544 Park St. This address is just about a block from where John's brother Axel was living. John's wife, Ida, emigrated in 1875 at the age of 3. Oldest son, Lawrence, is listed in the census. CHARLES is listed in that same census, living in the same household with John and his family. The census gives the occupation of both John and CHARLES as stone sawers.
In 1905, John was living at 237 W. University Avenue, just a few blocks from the capitol, in Frogtown. He was a stationary engineer, possibly working on the construction of the new capitol building, with his brothers.
In 1910, John was still living at 237 W. University Avenue, employed at the stone works as a stationary engineer. His family had grown to five children. By 1920, one more child was in the family, still living at 237 W. University Avenue.
In the 1930 census, the family was living at 1223 Hamline Avenue, in the Como Lake area of St. Paul. His son, Lawrence, was also living there, married with two children.