Holm kyrka

KARL PETERSON was born at the Fagerlid homestead in Markustorp, Holm, Dalsland, Sweden, on Feb. 1, 1876. He was baptized at the nearby Holm kyrka (photo right), which is just north of Mellerud and only about a kilometer from the homestead. His parents moved to Kasen, Skållerud, in 1883, and KARL left from there on Apr. 1, 1892, hoping for better opportunities in America.

KARL sailed from Göteborg, April 15, 1892, on the Ariosto. This ship was built in 1889, and at the time it was launched, in 1890, was the largest North Sea passenger ship. It was 300 feet in length and had two masts and a single funnel (smokestack). This ship brought KARL to Hull, England. From there, he probably took a train to Liverpool, and then sailed on another ship to Ellis Island. The trip would have taken several weeks in total. The one-way fare was the equivalent of a year's income. It was probably at this time that he began using CHARLES as his first name.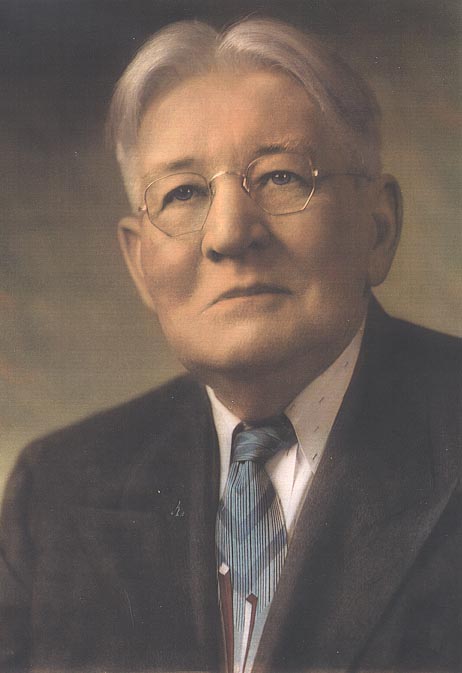 Karl "Charles" Peterson
In Sweden, CHARLES had little formal education, as the boys spent much of their time farming. The girls received more education because schooling did not interfere as much with their duties. This lack of education hampered CHARLES in acquiring a good job at first, but he was very talented and would later, in Detroit, find better work.
He came first to Duluth, St. Louis, MN, where, in 1895, he had a room at 515 Lake Avenue South. His brother, John, was living at a rooming house across the street at 522 Lake Avenue South. Axel would join them the following year. The old houses on this block have long ago been razed. The 522 address is now that of Grandma's Saloon & Grill. Lake Avenue South is well known as the street that crosses the Duluth Aerial Bridge, built after the brothers moved away from Duluth.
At the time of the 1900 U.S.census, taken on June 13 of that year, CHARLES was living with his brother John, and John's family, in an area of St. Paul, Ramsey, MN, known as Frogtown. It was a working class multi-ethnic neighborhood just a block or two from the present state capitol complex. They lived at 549 Park Street. In 1900, construction had just begun on the new (and current) capitol building. The 1900 census reports that both John and CHARLES were stone sawers. Apparently they were engaged in the project of preparing the enormous amount of granite, marble, and sandstone used in the capitol construction. Construction would continue until its completion in 1905.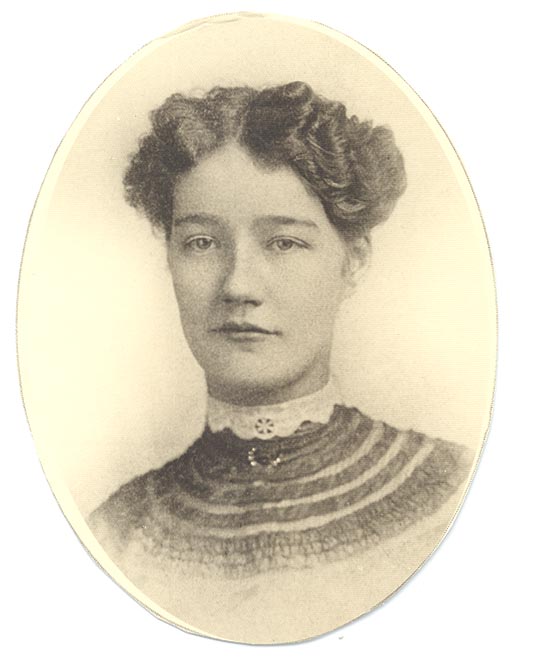 Thea Thorstenson
CHARLES obtained his Citizenship on July 25, 1902, in St. Paul, Ramsey, MN. He then voted the same day. At the time of the 1905 census in June of that year, CHARLES was living with his brother Axel and Axel's family. They all lived at 480 Blair St. in Frogtown. It is believed that after the capitol construction was completed, CHARLES went to northern Minnesota to work in a logging camp as a cook. The loggers winter in the large towns of the area, such as Grand Forks, Grand Forks, ND, and that is where he spent the winter of 1905-06.
THEA is of Norwegian descent. Her parents came to America in 1881, along with THEA's three oldest siblings. They settled near Fergus Falls, Otter Tail County, MN, where THEA was born in 1887. There is some question about the exact date of THEA's birth. Her birth was recorded at the Otter Tail recorder's office on July 22, 1887, in Book C, page 4, line 26. The date of birth was recorded as April 15, 1887. But, this doesn't agree with subsequent records of her birthdate. The 1900 U.S. Census of Red Lake County lists the date as March 1887. Her marriage certificate and death certificate both show March 19, 1887.
About 1899, the family moved to Equality township, Red Lake County, MN. In 1905, her father purchased farm land in Section 15. Her uncle Kittel, and a number of cousins, were on the quarter-section to the west. Both families attended the Salem Church in Garnes, MN, where THEA was confirmed. Apparently the land was sold not long after it was purchased, and the family moved to Grand Forks, ND, for a short time.
THEA THORSTENSON was in Grand Forks with her family during the winter of 1905-06 as they prepared for their move to Montana. That is where CHARLES and THEA met, and that winter, on February 19, 1906, they married in Grafton, Walsh, ND. Their wedding picture was taken in Canada, as they headed for Detroit.
CHARLES and THEA were in Detroit, Wayne, MI, in 1910 at the time of the U.S. Census, but a year later were living in Thunder Bay, ON. THEA's sister Amanda was living with them. The 1911 Canadian Census lists CHARLES's occupation as S. Engineer working for "Rock Co." It is known that he was also living in Thunder Bay in 1914 when Harrison was born. It is not known if CHARLES and THEA lived there continuously from 1911 to 1916, when CHARLES transferred his union membership.
Following the time in Canada, CHARLES and THEA lived in Detroit, where he was a "stationary engineer" (ARCHIE's birth certificate) or "hoisting engineer" (CHARLES' death certificate). He operated heavy construction equipment and was involved with two major construction projects in the Detroit area, the erection of the J. L. Hudson building and the Detroit Tunnel project. He was a member of the International Union of Operating Engineers for 43 years, having first belonged to Local 298 in Canada, and then transferring to Local 324 on Dec. 29, 1916.
THEA, her sister Amanda, and her daughter Angela all died in a period of 12 months, between July 1918 and June 1919, during the period of the influenza epidemic of 1918-1919. THEA died Dec. 30, 1918. THEA, Amanda and Angela are all buried in the family plot at Evergreen Cemetery in Detroit.
On Nov. 8, 1921, CHARLES married second, Lillian Ruschke of Ypsilanti, Washtenaw, MI. CHARLES died June 15, 1955, after an illness of about a year. Lillian lived to be 93 years of age, dying May 16, 1982. CHARLES, Lillian, and sons Donald and Gordon, are all buried in the family plot at Evergreen Cemetery.
CHARLES was known to have lived at the following addresses:

 ------------ Duluth, MN -------------
 1895          515 Lake Avenue South
 ----------- St. Paul, MN ------------
 1900          544 Park St. (w/ John) 
 1905          480 Blair St. (w/ Axel)
 ------------ Detroit, MI ------------
 1908          439 Lafayette St.
 1910          388 Abbott St.
 ---------- Thunder Bay, ON ----------
 1911           49 Front St. 
 1914          314 S. Franklin St. 
 ------------ Detroit, MI ------------
 1918-1920     711 Tillman St. 
 1921              Wabash St.
 1922-1940+  15444 14th St.
 19xx-1955   14025 Kentucky St.