GENERATION 2
---
Archie and Ruth Photo Gallery
---
Biography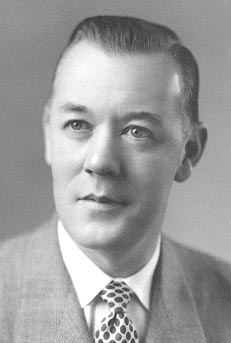 Archie Sherman Peterson

ARCHIE SHERMAN PETERSON was born in Detroit, Wayne, MI, on Feb. 2, 1908. RUTH NORMA WILBUR was born in Kansas City, Jackson, MO, on Nov. 23, 1907. They were married on Dec. 25, 1934 in Joplin, Jasper, MO.

ARCHIE was the first child of CHARLES PETERSON and THEA THORSTENSON. At the time of his birth the family was living at 439 Lafayette. By 1918 they had moved to 711 Tillman. THEA died when he was 10. Eventually he was forced to quit high school to support himself.

He married RUTH on Christmas Day 1934, in Joplin. At the time she was a nurse at Battle Creek Sanitarium, Battle Creek, Calhoun, MI. He was office manager for Sun Oil Company (SUNOCO), also in Battle Creek. A year later they moved to Lansing, Ingham, MI. He was a member of the Shrine, Elks Lodge, a 32nd degree Mason of the Masonic Temple, and a national director of the Junior Chamber of Commerce (Jaycees) during 1940-42.

In January, 1942, he transferred to Syracuse, Onondaga, NY, where he continued to work for Sun Oil. Following that he moved to Des Moines, Polk, IA, where he was an independent agent or agency supervisor for several life insurance companies. In early 1950, he moved to Watertown, Codington, SD, where he was agency manager at Midland National Life. He remained there for four years, before moving to Mitchell, Davison, SD, and he held a similar postion with a small insurance company there. In late 1954 or early 1955, he moved to Rapid City, Pennington, SD, where he took a position as General Agent for Kansas City Life. Later he moved to Colorado, Texas, Alabama, and New Mexico, where he continued to work in life insurance sales positions.

He died tragically in Albuquerque, Bernalillo, NM, on Aug. 26, 1970. While having a business dinner at Diamond Jim's Restaurant he swallowed a piece of meat and began choking. Although several physicians were at the restaurant dining, they were unable to dislodge the obstruction and he suffocated. His body was cremated and the remains scattered on the property of his daughter in Weaverville, Trinity, CA.

Ruth Norma Wilbur

RUTH was raised in Granby, Newton, MO, graduating from high school there. She was a member of the school band, playing the French horn. After a year of schooling (Ozark Wesleyan College) at nearby Carthage, Jasper, MO, she went on to nursing school at Battle Creek Sanitarium, where she earned her nursing degree. She married ARCHIE at the age of 27. She practiced nursing most of her life and returned to Joplin, MO in 1970, when ARCHIE died.

She was a member of the First Presbyterian Church of Joplin, and the Order of the Eastern Star. She was invited to join the Curtis Club, a church social club of ladies from the church. She enjoyed the regular lunches and teas with those friends. On Mar 21, 1986, she married Don Blackwood, a widower of a longtime friend of hers. That marriage dissolved after a few years. She died in Joplin, Jun. 21, 1994, and is buried near the grave of her father at Ozark Memorial Park Cemetery in Joplin.

She was an avid crossword puzzle worker and loved to play trivia games. While living in Watertown, SD, she won so many trivia games given over KWAT radio, that she was once asked to "suspend" playing for a while, so others would have a chance to win.

Another favorite hobby of hers was knitting. Not only did she enjoy this pastime and receive great satisfaction from the wonderful socks, sweaters, blankets, etc. she made, but it also was a practical way to provide clothing for her family. After returning to Joplin, she used this talent in knitting bandages for leprosy victims who need special bandages.



________________________________________

Census Records


[click on link below, then click on census image to enlarge it]
| | | |
| --- | --- | --- |
| 1910 Detroit, MI Census | - | CHARLES, TILLIE, ARCHIE. |
| 1920 Detroit, MI Census | - | CHARLES, ARCHIE, Harrison. |
| 1930 Jackson, MI Census | - | ARCHIE. |
| 1910 Kansas City, MO Census | - | HERBERT, KATIE, RUTH, and other children. |
| 1920 Granby, MO Census | - | HERBERT, Cora, RUTH, and other children. |
| 1930 Joplin, MO Census | - | HERBERT, Cora, RUTH. |
| 1940 Lansing, MI Census | - | ARCHIE, RUTH, and children. |
---
Children
| | born | marr | died |
| --- | --- | --- | --- |
| living daughter | | | |
| living son | | | |
---
[HOME PAGE] [INDIVIDUAL NAMES] [SURNAMES] [FAMILY TREE]