GENERATION 3
---
---
Biography
KATHERYN MAUDE BAYNE was born on Aug. 8, 1877, in Colorado Springs, El Paso, CO. Dr. HERBERT LINCOLN WILBUR was born on Oct. 24, 1876, in Winslow, Stephenson, IL. They married in Wichita, Sedgwick, KS, on Sep. 22, 1897. They were married by J. T. Black.


"Bert" Wilbur, age 16

HERBERT moved from Illinois to Kansas with his parents in early childhood, about 1879 or 1880. The family first settled in Garden Plain, Sedgwick, KS, near Wichita. They lived in Liberty Township, Linn, KS, near Goodrich, from 1882-1889, and later moved back to Wichita. HERBERT's name appears in the City Directory of Wichita for 1898-99, with his residence at 1100 S. Wichita. He was already married at that time and living away from home. He does not appear in any Kansas records after that, but is listed in the 1900 U. S. Census for Kansas City, Jackson, MO. He served as a messenger for eight years with the Pacific Express Company, while attending the University Medical College at Kansas City, Jackson, MO, where he earned his medical degree May 21, 1907. HERBERT was listed as one of 65 seniors in the Register of 1906-07. He continued with his studies at UMC through 1908.

He is listed as follows in the City Directory and Censuses of Kansas City:


    1900                  2009 Olive St. (1900 U.S. census - Missouri)
    1905    messenger     Kansas City, Kansas (1905 state census - Kansas)
    1906    student       University Medical College
    1910    messenger     r. 1608 Lister Ave. (city directory)
    1910    physician     r. 1608 Lister Ave. (1910 U.S. census - Missouri)
    1911    physician     o. 211 N. Lawndale (city directory

The Jackson Co. Medical Society Records list HERBERT as a senior in the class of 1906-07 at University Medical College. And he is listed in booklets containing attendance records for school years 1906-07 and 1907-08. He is also listed in the 1934 alumni directory as being in the class of 1908. His address, in 1934, is given as 609 Main Street, Joplin, MO, which is the Frisco Building downtown.

He moved to Granby, Newton, MO, shortly after graduating, to start his medical career, and remained there for 20 years. He served as captain in the medical corps in World War I, and was stationed at Ft. Riley, Riley, KS, and Ft. Benjamin Harrison, Marion, IN. Following the divorce of HERBERT and KATHERYN, he married a second time in 1919 to Cora B. Scott, at Washington, Daviess, IN. After the war he spent some time in Europe in post-graduate study. He also took post-graduate courses in the Polyclinic hospital in New York in 1913, and in DeLee hospital in Chicago.

In 1913, HERBERT was one of 96 residents of Newton County, who had registered an automobile with the Secretary of State at Jefferson City, as required by law.


Capt. H.L. Wilbur, age 42

Dr. H.L. Wilbur, age 65

In Granby, HERBERT served as president of the Newton County Medical Society and was a commander of the Buddy Ross post of the American Legion. In Joplin, Jasper, MO he served on the staffs of both St. John's and Freeman hospitals, and was president of St. John's staff in 1940, and president of the Jasper County Medical Society in 1943. He was post surgeon of Robert S. Thurman post of the American Legion, surgeon for Frisco railroad, and examining physician for American Airlines. He also was a member of the Missouri and American Medical Associations, a member of Ivanhoe blue lodge of the Masonic order in Kansas City, a Scottish Rite Mason, Shriner, and member of the First Methodist Church in Joplin.

HERBERT suffered a stroke on Sep. 22, 1947, and was confined to bed until his death. He died in Joplin, MO, on Mar. 15, 1953, and is buried in Ozark Memorial Park Cemetery in Joplin, next to his second wife, Cora, and his youngest child, RUTH.

At the time of his death, HERBERT was residing at 617 Empire Ave., Joplin, MO, just a half a block from historic Route 66.
The first records of KATHERYN are the 1880 U.S. census records. She was living in Colorado Springs, at that time, with her parents and older sister, Birdie Mabel (listed as Bidie M. in the census).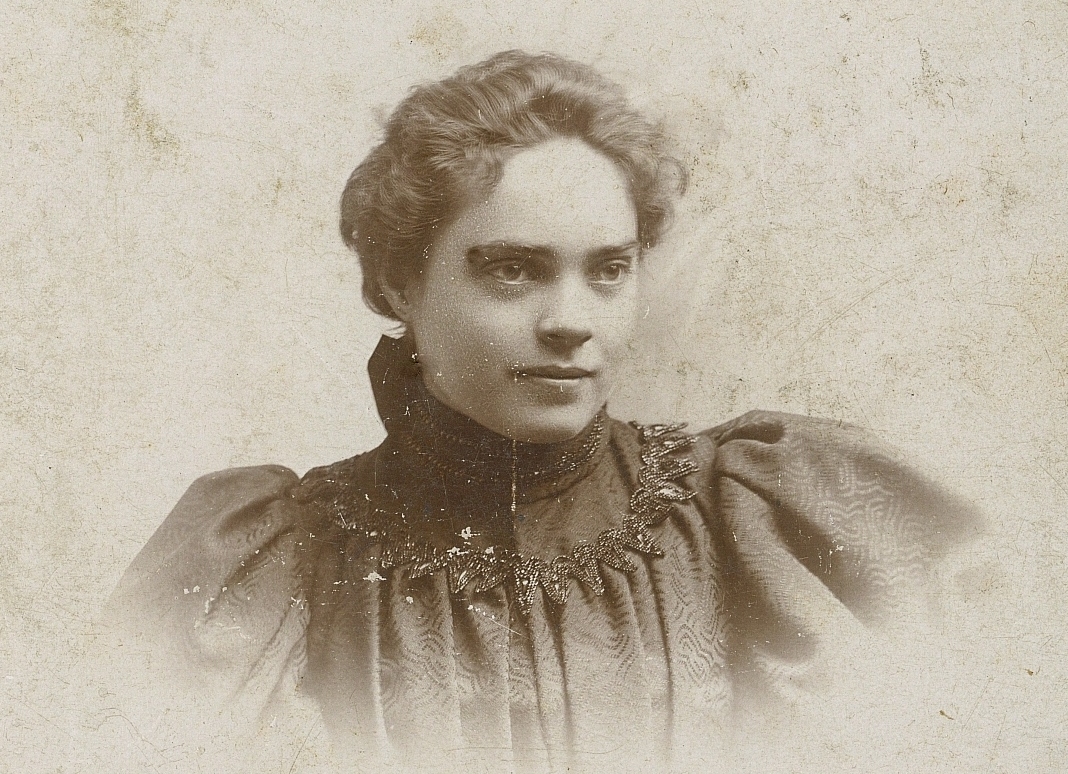 Katie, age 19
photo courtesy Bill Mildren
In 1884, KATIE moved with her family from Colorado Springs to Wichita. Several years later the Wilbur family moved to Wichita. There KATIE met HERBERT, who lived just a couple of houses away.
About the time RUTH was born, KATHERYN began suffering from "deep depression". Marian found herself, at about age 9, needing to care for her younger siblings. KATHERYN spent some time in a mental facility, but returned to the family. Eventually she was removed from the Wilbur household and lived part time with Marian, and also worked part time for Mrs. Hattie A. Sheley in Kansas City, KS. Marian would come to visit her in Kansas City, and at the same time visit HERBERT's mother, EFFIE, who was living in nearby Westport Landing (Kansas City, MO), where Marian had lived as a child. Because of the continuation of the "nervous breakdowns", KATHERYN was finally institutionalized at the State Hospital in Nevada, Vernon, MO. KATHERYN is listed in two different places in the 1920 U. S. Census. She is listed as living at the State Hospital in Nevada, but also is listed in nearby Ft. Scott, Bourbon, KS, as a domestic for the family of Joseph Meade.
KATHERYN died in Nevada on May 26, 1967, and is buried in Granby Cemetery, next to two of her children, Marian and Arthur, and also Marian's husband, Earl Edmund Jones.
Note: Family records show spelling of "Kathryn" and "Katie", RUTH's replacement birth certificate shows "Katheryn", KATHERYN's own death certificate shows "Katherine", KATHERYN's marriage record shows "Kattie", 1880 U.S. census records show "Katie." Her name is spelled "Katherine" in her sister's obituary and "Kate" in her father's obituary. Her tombstone reads "KATHERYN. Her children called her "Mambo".
________________________________________

Marian Maude Wilbur

Marian Wilbur Jones
Joplin, MO, 1947
Marian, the firstborn of HERBERT and KATHERYN, was the only child born in Kansas. She attended school in Kansas City and Granby, MO. It was in Granby where she met her husband, Earl Edmund Jones. He worked at the Granby Drug Store and later as a pharmacist in Neosho, Newton, MO. They married in 1916 at the home of her parents.
Marian and Earl moved to Neosho, where they would raise a family of four children. During WWII, Earl owned a grocery store on the road to Camp Crowder. When their children left, they followed, spending their life in California, Utah, and Colorado. Late in life they returned to Neosho. They are buried at Granby Cemetery.

________________________________________

Maurice & Arthur Wilbur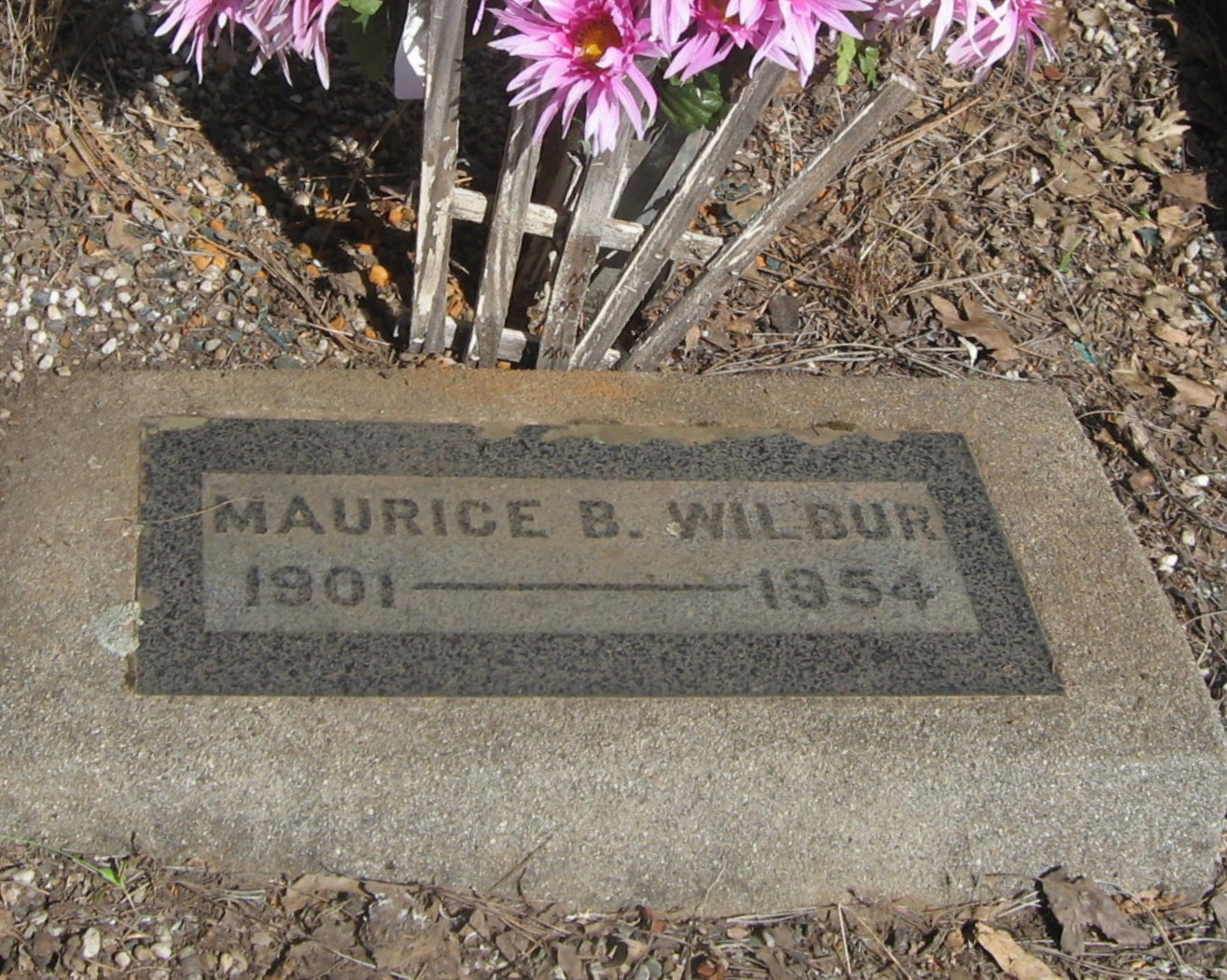 Red Men Cemetery, Grass Valley, CA
photo courtesy Mary Ann Field
Maurice and Arthur were living together on Canyon Creek Road, Burke, Shoshone, ID, in 1930, as reported in the U.S. census that year. They were miners at the local lead mine. Burke came to life in the 1880's when silver and lead were discovered in the area. Mining operations ceased many years ago, leaving a legacy of pollution from the lead and other poisonous minerals in the creeks and soil.
Maurice moved to Grass Valley, Nevada, CA, about 1933. He married and mined gold. Arthur lived with Maurice in Grass Valley around 1935. During WWII, Maurice and Josephine moved to San Francisco where he was a shipyard worker. Then, after the war, they returned to Grass Valley. He took his life there on July 10, 1954, and is buried at Red Men Cemetery, Grass Valley. They had no children. Josephine moved to Redding, CA, and lived with her sister Katherine for the rest of her life.
Arthur left Grass Valley and moved to Butte, Silver Bow, MT. He was a (unemployed) metal miner there in 1940 and lived in a boarding house with other miners. He died there August 1, 1964. His body was returned to Granby, MO, and was buried in the family plot. He never married.

________________________________________

Census Records


[click on link below, then click on census image to enlarge it]
| | | |
| --- | --- | --- |
| 1880 Garden Plain, KS Census | - | JAY, EFFIE, Robert, BERTIE. |
| 1880 Colorado Springs, CO Census | - | SILAS, MARY, Birdie, KATIE, Claude. |
| 1895 Wichita, KS Census | - | JAY, EFFIE, BERT, and other children. |
| 1895 Wichita, KS Census | - | SILAS, MARY, KATIE, and other children. |
| 1900 Kansas City, MO Census | - | HERBERT, KATIE, Marian. |
| 1905 Kansas City, KS Census | - | HERBERT, KATIE, Marian, Maurice. |
| 1910 Kansas City, MO Census | - | HERBERT, KATIE, RUTH, and other children. |
| 1920 Granby, MO Census | - | HERBERT, Cora, RUTH, and other children. |
| 1920 Nevada, MO Census | - | KATIE. |
| 1920 Ft. Scott, KS Census | - | KATIE. |
| 1930 Joplin, MO Census | - | HERBERT, Cora, RUTH. |
| 1930 Burke, ID Census | - | Arthur,Maurice. |
| 1940 Joplin, MO Census | - | HERBERT, Cora. |
| 1940 Kansas City, KS Census | - | KATHERYN (Hattie Sheley). |
| 1940 Butte, MT Census | - | Arthur. |
| 1940 Grass Valley, CA Census | - | Maurice. |
---
born
marr
died
Marian Maude
husband Earl Edmund Jones
12-29-1898
08-11-1896

06-18-1916
10-18-1979
04-17-1978
Maurice Bayne
wife Josephine Mayer
01-22-1901
02-08-1901


07-10-1954
04-14-1960
Arthur Herbert
02-15-1906
08-01-1964
RUTH NORMA WILBUR
husband ARCHIE S. PETERSON
11-23-1907
02-02-1908

12-25-1934
06-21-1994
08-26-1970
---
[HOME PAGE] [INDIVIDUAL NAMES] [SURNAMES] [FAMILY TREE]