GENERATION 5
---
---
Biography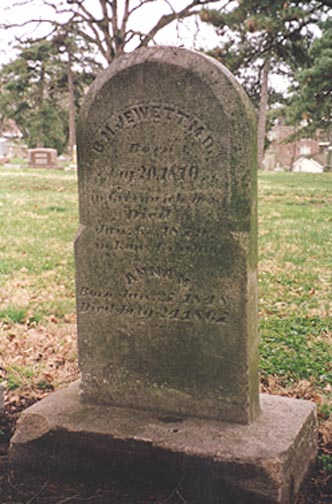 DR. BENJAMIN MARLIN JEWETT was born on Aug. 20, 1810, in Greenwich, Hampshire, MA. He married first Fidelia Tucker on Aug. 18, 1833 in Geauga, Co., OH (east of Cleveland). They had one child, Helen, who was only 18 months old when Fidelia died, Aug. 15, 1836.
He married second MATILDA TUCKER, sister of Fidelia, on Jun. 4, 1837. She died on Jan. 5, 1865, and is buried in Union Cemetery in Kansas City, Jackson, MO. The Union Cemetery's Lot Deed Book shows that BENJAMIN purchased the south half (200 square feet) of Lot No. 16 in Block 3 on Jan. 18, 1865, for $25.00. The lot was paid for by cash on Aug. 4, 1866.
MATILDA, the daughter of ASA and ANNA (MILLER) TUCKER, was born Feb 5, 1809, in Suffield, Hartford, CT. MATILDA's mother died in 1830, when MATILDA was 21 years of age. Her older sister Olive had moved to Chardon, Geauga, OH, in 1825. In 1832, MATILDA, and sisters, Fidelia and Harriet, joined Olive and her family in Chardon.
In 1838 BENJAMIN was living in Wilson township, north of Springfield in Greene County. The History of Springfield documents a fight at a local grocery (or tavern) which resulted in the fatal stabbing of Jonathan Reno by Randolph Britt. "Dr. B. M. JEWETT performed the autopsy."
Missouri Circuit Court records of Greene County, show that BENJAMIN appeared in that court some twelve times during the period from 1838 to 1846. The cases seem to be mostly disputes over monies owed, and he was both plaintiff and defendant in these cases. The awards went both ways. His younger brother, Sexton Butler, was mentioned as a juror in 1840, but not on a case relating to BENJAMIN. However, this places Sexton in the same locale as BENJAMIN at that time. However, in 1850, "Butler" and his wife are included in the census for Antioch, Lake, IL.
The 1841 plat map for Bolivar, Polk, MO, shows that "Dr. Jewett" owned Out Lot 21, at the northeast corner of East Broadway St. and North Wilson Ave., three blocks east of the "new" courthouse which was built in 1841-42.
The Bolivar Christian Church was organized about 1852 by Rev. Elgin. BENJAMIN, MATILDA and Helen were among the first members.
Osage Lodge No. 61, I.O.O.F., was organized April 11, 1853. BENJAMIN was a member and the first treasurer of the Lodge. He was also a member of the Masons. His name appears, as an officer of the lodge, regularly in the "Bolivar Weekly Courier" in 1856, in notices concerning lodge events.
In 1856, BENJAMIN was appointed as a representative from Marion Township (Bolivar) on a committee established to draft a "resolution of Sympathy" for residents of Kansas who were being "invaded by armed abolitionists". The resolution was approved by the citizens of Polk County at a meeting at the court house in Bolivar, Aug. 30, 1856. He then was one of four persons from his township appointed to call on citizens and solicit contributions of money and provisions as aid for the people of Kansas. Later an armed company was organized, which went to Kansas to help some settlers move to Missouri. It consisted of fifty to sixty men. BENJAMIN was not a member of that armed party.
The 1859 Kansas census for Olathe shows that BENJAMIN and MATILDA settled in Olathe, Johnson County, in March, 1857. Other records from Olathe show that BENJAMIN and his son, Charles Benjamin, were involved in land transactions there in 1859-1861.
BENJAMIN was one of the first medical doctors to practice in Kansas City. He is listed in the 1859-60 Kansas City Directory as a physician with an office and residence at the N.W. corner of Ross and George. He served as city Councilman during the 1861 administration of Mayor R. T. Van Horn. He died Jan. 6, 1879, and is buried in Union Cemetery in Kansas City.
Family records show that BENJAMIN married third Sarah J. Purviance on Nov. 22, 1865. Mrs. S. F. Jewett (note incorrect middle initial) was living at the Jewett residence in 1876, at 1215 Walnut Street. Also, Mrs. Sarah J. Jewett is listed at that residence in 1881. She is listed at that same residence in the 1880 U.S. Census as I.[sic] J. Jewett, widowed, age 56.
The obituary in 1919 for Mrs. Callie B. Jewett mentions only a brother and a sister as survivors, as she had no children. The obituary for George Perham on Oct. 14, 1936, in the Kansas City Star mentions that he is survived by 8 nieces and 2 nephews. MARY MATILDA had one son and two daughters living at that time of George's death. The other 7 survivors were the children of Sarah Jane and her husband James M. King.
In 1911, a Jewett family reunion was held in Rowley, MA. Ai Harry Jewett, who is a grandnephew of BENJAMIN MARLIN attended that reunion, and in fact helped organize the reunion. In the Yearbook published after the reunion, Ai included the following entry: "Benjamin Marlin Jewett settled in Missouri about 1848 to 1853. Had quite an estate and a large family. Was a man of considerable prominence at the commencement of the Civil War."
________________________________________

Sarah J. Purviance
third wife
After MATILDA died in 1865, BENJAMIN married for the third time. Sarah Jane Chambers was born Aug. 25, 1823, in Ohio, the daughter of Samuel A. Chambers. In 1843, she married Marshall J. Purviance, in Darke County, OH. They had one son, Warren Chambers Purviance, born in 1844. Marshall died in 1856. In the 1860 census, Sarah and her 16 year old son were living in Huntington, Huntington, IN. By the time of the 1870 census, Sarah was married to BENJAMIN and living in Kansas City, and her son Warren was living in Bethany, Harrison, MO. Warren, later moved to Peru, Nemaha, NE, and raised a family. He then moved to Santa Clara County, CA. After BENJAMIN died in 1879, Sarah continued to live in Kansas City for a while. She was reported living there in the 1880 census, and was listed in the city directory in 1881. By 1900, she had joined her son in Los Gatos, Santa Clara, CA.
________________________________________

Helen Fidelia Jewett
Helen was married on April 7, 1856, to William S. Moore who was born in Kentucky. The were married at the home of BENJAMIN and MATILDA in Bolivar. Helen and William moved to California around 1856-57, and returned to Missouri around 1863-69. William was described as a "merchant" in the 1860 U.S. Census for Sutter Creek, Amador, CA. At the time of the 1870 U.S. Census, the family is found living in Trenton, Grundy, MO, where William was a railroad contractor. Then in 1880, they were back in California, living on Welsh Street in San Francisco.
They had five children: Annie F. (b. 1857), Willie J. (b. 1859), George J. (b. 1863), Grace H. (b. 1869), Francis (son b. 1871). William (Willie J.) married Blanche Foster in 1883, and was living in Napa, CA, at the time of the 1910 and 1920 U.S. Censuses. A son, George J. married and settled in Crockett, CA, where he was living at the time of the 1930 U.S. Census.
________________________________________

Sara Jane Jewett
[photo]
Sarah Jane Jewett married her next door neighbor, James Madison King. They had eight children, one of whom died in infancy. James was in the Union Army during the "War of the Rebellion", and was taken prisoner Jul. 3, 1864, and held captive at Andersonville Prison, in Georgia. He was paroled because of bad health, Nov. 25, 1864, but lived to the age of 76.

Many of the descendants of Sarah and James lived in Missouri, and even today most of the living descendants are in the Kansas City area.


Sara Jane Jewett
[photo courtesy of
David Fuller]
________________________________________

George Perham Jewett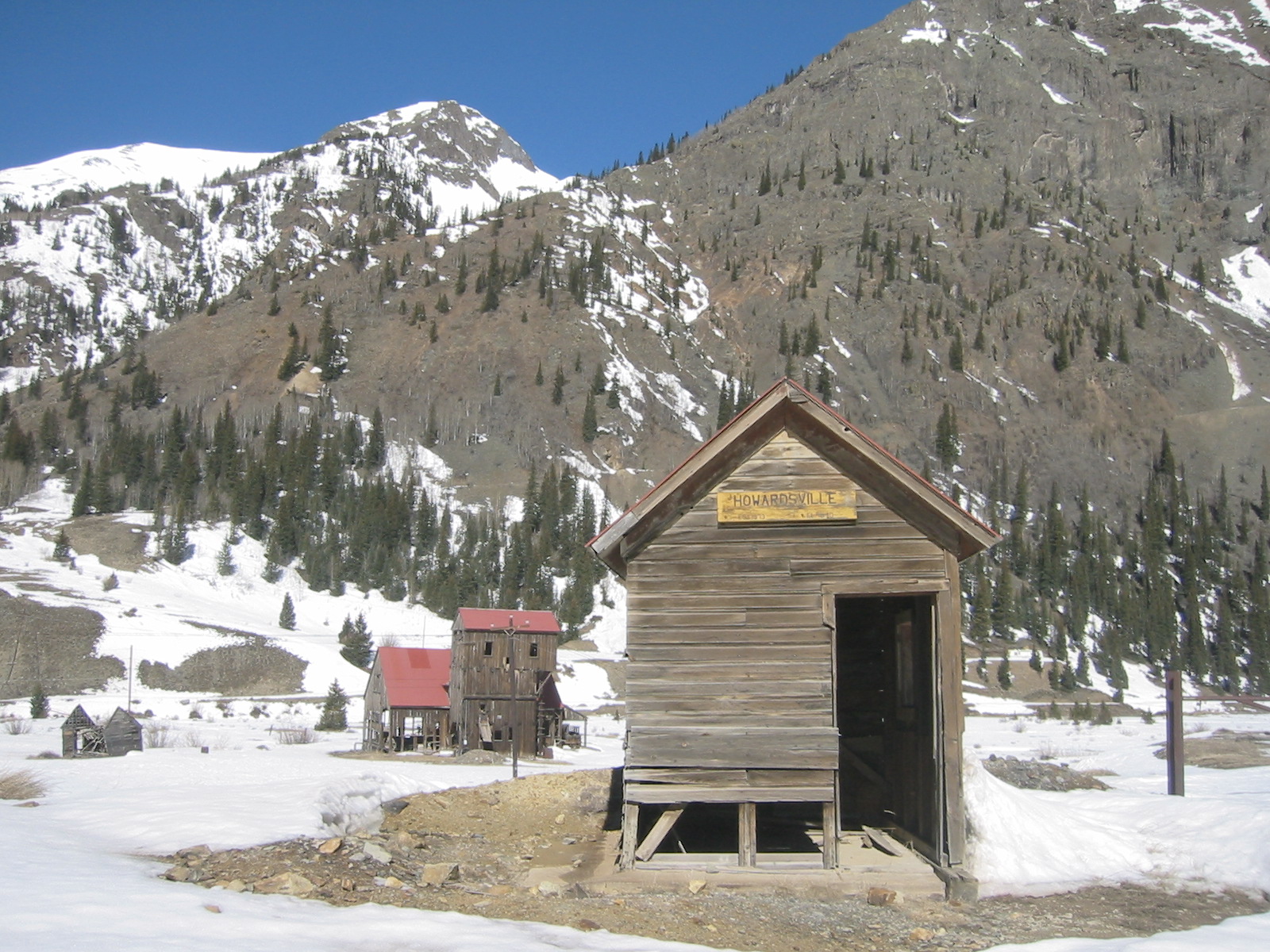 The 1880 U.S. Census includes George P. Jewett in the 4th Precinct, Gunnison, CO. His occupation is given as "lode miner".
The May 31, 1884, issue of the La Plata Miner reports that George was in Gladstone, just north of Silverton, San Juan, Co. The paper shows he signed a petition in 1884, was paid as a juror in 1885, had a lease on the French Boys Mine later that year, and spent the first week of December, 1887, in Durango, CO.
Between 1889 and 1921, several dozen mentions of George can be found in the Silverton Standard. He was an election judge, road overseer for the east district, and worked claims at various mines in Gladstone, Howardsville and Ice Lake. In 1891, he had his own business burning and selling lime, which was used as mortar.
On Feb. 4, 1897, he purchased land in Silverton: forty acres, the Northeast quarter of the Southwest quarter of Section 1, Township 37 North, Range 9 West.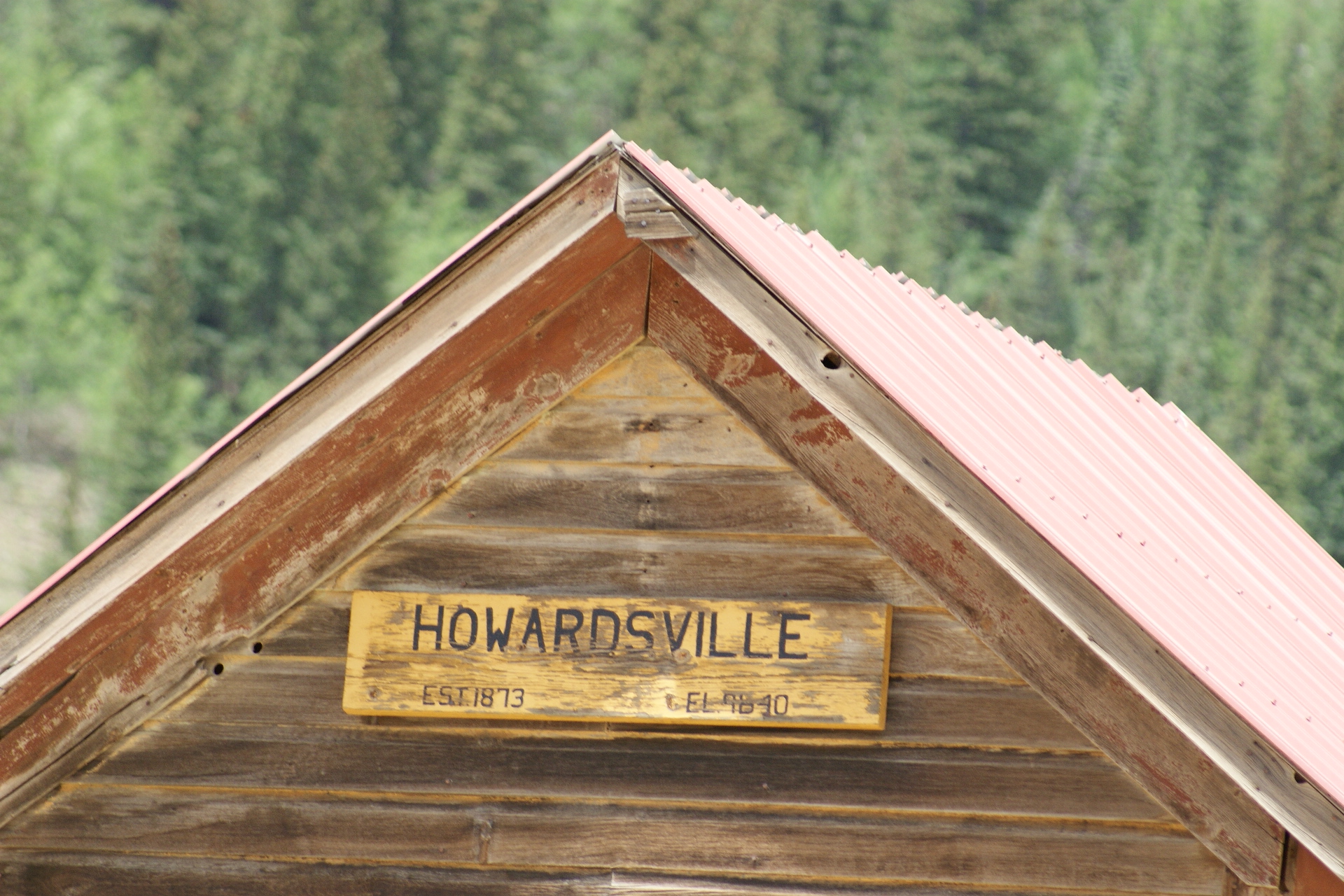 George can be found in both the 1910 and 1920 U.S. Censuses for Howardsville, San Juan, CO. He is listed as a quartz miner. Howardsville [photos left and right] is located along the Animas River at the mouth of Cunningham Creek about 5 miles north of Silverton. It can be reached today via state highway 110 from Silverton.
An article in the December 11, 1915, issue of the Silverton Standard mentions that, "George Jewett left Wednesday morning for his home in Missouri after an absence of twelve years from home."
As reported in the 1930 U.S. Census, George was living with his niece, Avis (King) Davis and her husband, James Davis. They were living on E. 23rd Street, Kansas City, MO, near the present site of Blue Valley Park. This is near the historic site where the Sante Fe Trail crossed the Big Blue River. George died on Oct. 13, 1936, and is buried at Union Cemetery in Kansas City.


________________________________________

Census Records


[click on link below, then click on census image to enlarge it]
| | | |
| --- | --- | --- |
| 1800 Pelham, MA Census | - | BENJAMIN, and family. |
| 1810 Greenwich, MA Census | - | BENJAMIN, and family. |
| 1820 Greenwich, MA Census | - | BENJAMIN, and family. |
| 1830 Springfield, MA Census | - | BENJAMIN, and family. |
| 1830 Ludlow, MA Census | - | BENJAMIN, and family. |
| 1840 Polk County, MO Census | - | BENJAMIN, and family. |
| 1850 Bolivar, MO Census | - | BENJAMIN, MATILDA, MARY, and other children (Part 1). |
| 1850 Bolivar, MO Census | - | BENJAMIN, MATILDA, MARY, and other children (Part 2). |
| 1859 Olathe, Kansas Census | - | BENJAMIN, MATILDA. |
| 1860 Kansas City, MO Census | - | BENJAMIN, MATILDA, MARY, and other children. |
| 1870 Kansas City, MO Census | - | BENJAMIN, SARAH, MARY, and other children. |
---
Children
born
marr
died
children of BENJAMIN MARLIN JEWETT and Fidelia Tucker
born in Ohio
Helen Fidelia
husband William S. Moore
03-15-1835


04-07-1856


children of BENJAMIN MARLIN JEWETT and MATILDA TUCKER
born in Missouri
Charles Benjamin
08-15-1838
01- -1865
William Asa
wife Callie B. Allen
12-02-1840
06- -1850

05-29-1873
06-15-1879
12-06-1919
MARY MATILDA JEWETT
husband SILAS TAYLOR BAYNE
06-17-1843
01-22-1847

12-31-1874
06-28-1899
07-16-1927
Sarah Jane
husband James M. King
03-11-1846
03-10-1846

12-25-1872
12-07-1927
08-13-1922
Aunise (Anna) Maria
01-27-1848
07-24-1867
George Perham
10-23-1853
10-13-1936
---
Chronology of Benjamin Marlin and Matilda (Tucker) Jewett
| | |
| --- | --- |
| 02-05-1809 - | Matilda born in Suffield, Hartford, CT. |
| 08-20-1810 - | Benjamin M. born in Greenwich, Hampshire, MA. |
| 1810 - | U.S. Census lists Benjamin (father) in Hampshire, Co, MA. |
| 12-31-1818 - | Lucretia Jewett dies, mother of Benjamin M. |
| 1820 - | U.S. Census lists Benjamin (father) in Hampshire, Co, MA (Greenwich). |
| 11-28-1830 - | Anna Miller Tucker dies, mother of Matilda. |
| 1830 - | U.S. Census lists Benjamin (father) in Hampshire, Co, MA (Ludlow). |
| 1833 - | Fidelia and Matilda come to Geauga. |
| 1833-1837 - | 1st marriage / 1st child / 2nd marriage. |
| 1838-1846 - | Benjamin appears in Circuit Court, Greene Co, MO, 12 times over 7 years. |
| 05-18-1833 - | Asa Miller Tucker dies, father of Matilda. |
| 1840 - | U.S. Census lists Benjamin M. in Polk, Co, MO (north of Springfield). |
| 1840 - | U.S. Census lists S. B. Jewett (Sexton Butler) in Greene, Co, MO (Springfield). |
| 1841 - | Bolivar plat map identifies "Dr. Jewett's" out lot 21 at E. Broadway and N. Wilson. |
| 09-05-1843 - | Benjamin M. is witness for will of Nathan Witt, Polk Co, MO, Wills Book "A" 1839-1856. |
| 09-10-1844 - | Benjamin M. "of Greene Co, MO" buys public land in Springfield, Greene, MO. |
| 10-14-1845 - | Benjamin (father) dies. |
| 1850 - | U.S. Census lists Benjamin M. in Polk, Co, MO. |
| 04-07-1856 - | 1st daughter, Helen, married in Polk, Co, MO. |
| 1859 - | U.S. Census lists B. M. Jewett in Johnson, Co, KS (Olathe). |
| 1859-60 - | Benjamin M. listed in Kansas City directory as a physician. |
| 1859-61 - | Benjamin M. involved in land transactions in Kansas, near Kansas City, MO. |
| 1860 - | U.S. Census lists B. M. Jewett, Jackson Co, MO. |
| 1861 - | City councilman in Kansas City, MO. |
| 01-05-1865 - | Matilda (2nd wife) dies in Kansas City, Jackson, MO. |
| 1870 - | U.S. Census lists Benjamin Jewett, Jackson Co, MO. |
| 01-06-1879 - | Benjamin M. dies in Kansas City, Jackson, MO. |
[HOME PAGE] [INDIVIDUAL NAMES] [SURNAMES] [FAMILY TREE]