GENERATION 8
---
---
Biography
BENJAMIN CARPENTER II was born in Northampton, Hampshire, MA, on Oct. 3, 1695. The family moved to Coventry, Tolland, CT, in 1709. The town of Coventry dates from about that year when sachem, Joshua of the Mohegans gave the right to make settlements there to a number of Hartford families. The town was incorporated in 1712. It was named after Coventry, England, and is best known as the birthplace of Nathan Hale.
An intention of marriage was made between REBECCA SMITH and BENJAMIN CARPENTER on July 22, 1726, in Suffield, MA (now CT), as documented in the Barbour Collection of Town Records, Suffield 1674-1850 [image].
BENJAMIN and REBECCA married Apr. 12, 1727, in Coventry, and they settled in North Coventry, near the Bolton line, on the lot of land lying between Isaac Keeney's and the West school house. The distance to the church in Coventry was so great that in 1739, BENJAMIN, his brother Jedediah and several of their neighbors, wishing to be in the town of Bolton, petitioned the people of that town to assist them in having the dividing line between the towns changed. This was not done, but about 1745, a church was built in North Coventry, and called Coventry Second Church. Unfortunately the early records of the church have been lost, so that little is known about some of the families of this district.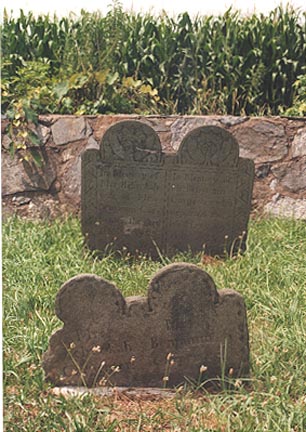 Silver Street Cemetery
Coventry, CT




BENJAMIN was a corporal in the Connecticut militia during the French & Indian War, assigned to the 1st Company of the 2nd Regiment, under Col. Nathan Whiting. He was in the Campaign of 1760, during the final stages of the war, probably at Ft. George, NY.

BENJAMIN and REBECCA died in North Coventry and were buried at the old Porter Farm Cemetery, now called the Silver Street Cemetery, just South of Route 44 in North Coventry. Interments were made in this cemetery from 1773 to 1810, when the people decided to abandon it because of the flooding of the graves by springs. Unfortunately, no care was taken to preserve the place. By 1912, "the little cemetery was completely covered with trees, with a tangle of underbrush hiding the prostrate tombstones." However, the cemetery has been restored and now is in good repair.

One large double stone bears the following:

"In Memory of Mrs. Rebeckah wife of Mr. Benjamin Carpenter.
She died Feb 3rd 1788 in ye 83 Year of Her Age"

"In Memory of Mr. Benjamin Carpenter who departed this life
May y 29th A.D. 1785 in ye 90th Year of His Age"


The will of BENJAMIN CARPENTER signed Dec. 26, 1782, bequeathed:

"to his wife Rebecka, and to his sixth son Levi Carpenter, who now lives in the house with me, all my land, dwellings, and buildings I die possessed of in Coventry".
"Unto Dan Carpenter, Elijah Carpenter, Comfort Carpenter, Levi Carpenter, Reuben Carpenter, Esther Porter, Lois Baker, the heirs of my son Benjamin Carpenter and the heirs of my son Joseph Carpenter, deceased, and the children of my daughter Mary Jewett, all my moveable estate to be equally divided considering the heirs of my dead children as one of my children. My sons Dan and Levi Carpenter sole executors."
Witnesses: Daniel Badger, Ichabod Marshall, Olive Pierce.
Will probated: June, 1785.

In the distribution of the estate Sep. 13, 1794, Esther Porter is called Esther Cook ye oldest daughter of Benjamin Carpenter."


---
Who are the parents of Rebecca Smith?
There is much uncertainty about the parents of REBECCA SMITH. No records exist from her time that definitively answer the above question. Her date of birth can be established from the inscription on her tombstone at the Silver Street Cemetery in Coventry. She died in the "83 year of her age". Since she died Feb 3, 1788, her date of birth would be between Feb. 3, 1705 and Feb. 3, 1706.
So, the challenge is to find a Rebecca Smith with a birthdate that matches the date range criteria. One possibility is the daughter of Philip and Mary (Bliss) Smith of Hadley, MA. This Rebecca is mentioned in History of Hadley by Sylvester Judd, 1905. No date of birth is given by Judd, but she is sequenced between siblings born in 1702 and 1707. She is often identified in internet genealogies as the wife of Benjamin Carpenter. The problem is that she was almost certainly the wife of Jonathan Pitkin of Hartford. A Hartford land deed, dated Dec. 9, 1734, states that, "Philip Smith, deceased, is the Honored father" ... of Jonathan and Rebecca Pitkin.
In Families of Early Hartford, Connecticut, Lucius Barbour lists Rebecca Smith as the wife of Jonathan Pitkin, son of Capt. Roger Pitkin and Hannah Stanley. He gives no further identification of Rebecca Smith. Jonathan was born in 1696.
Another mention of the Philip Smith family can be found in a manuscript by Thomas B. Warren, entitled Springfield Families. This document shows that his daughter, Rebecca, was born in Hartford, after the family moved there from Hadley. This further supports a marriage to Jonathan Pitkin of Hartford.
Another Rebecca Smith mentioned in Judd's work is the daughter of Ichabod and Elizabeth (Cook) Smith. Her birthdate of Nov. 9, 1703, puts her slightly outside the desired date range. Her marriage to William Smith on Oct. 21, 1726, conflicts with the "intention to marry" dated July 22, 1726 between REBECCA SMITH and BENJAMIN CARPENTER.
A third Rebecca Smith mentioned by Judd is the daughter of Nathaniel and Mary (Dickinson) Smith. Her birthdate of Apr. 4, 1705, is a perfect match. However, Judd lists a marriage to Jonathan Wells. He gives no dates or parentage for Jonathan Wells. This leads to an investigation of the Wells family, documented by Judd and others.


1.
2.
3.
4.
Jonathan Wells (1684-1735), son of Jonathan and Hepzibah (Colton) Wells, married Rebecca Barnard
Jonathan Wells (1696-1756), son of Noah and Mary (White) Wells, married Mary Newton
Jonathan Wells (1718-1780), son of Jonathan and Mary (Newton) Wells, married Abigail Dickinson
Jonathan Wells (1702-1735), son of Ebenezer and Mary (Wait) Wells, married Mary Hoyt
All of the above are descended from Thomas and Mary (Beardsly) Wells. These families lived primarily in Wethersfield CT, Colchester CT, Hatfield MA, and Deerfield MA. This accounts for all the known Jonathan Wells' in the area, leaving none available to be the husband of any Rebecca Smith. Could it be an error by Judd? He has been credited with many. If so, this Rebecca Smith (daughter of Nathaniel) did not marry Jonathan Wells, leaving her as a candidate to be the wife of BENJAMIN CARPENTER. But this assumption has a serious flaw. A will [found by Rob Benson] dated Dec. 2, 1740 for Nathaniel Smith of Hatfield, Hampshire MA, mentions a daughter, Rebecca Wells. This backs up the documentation by Judd that Rebecca, daughter of Nathaniel, married Jonathan Wells.


---
Children
born
marr
died
all children born in North Coventry, Tolland, CT
Benjamin III
wife Catherine Brigham
12-21-1727 &nbsp


10-18-1750
02-27-1756

Dan
wife Abby Porter
07-17-1730 &nbsp
-1733 &nbsp


09-16-1804
12-17-1821
Elijah
wife Patience Brewster
05-03-1732 &nbsp
05-12-1732 &nbsp

10-31-1764
after-1790
09-08-1786
Mabel
07-29-1734 &nbsp
08-18-1742
Joseph
wife Phebe Ladd
02-04-1735/36
about-1740 &nbsp

08-04-1757
06-28-1776
02-13-1779
Esther
husband William Porter
02-08-1736/37


02-26-1756


MARY CARPENTER
husband ICHABOD JEWETT
08-12-1739 &nbsp
02-05-1738/39

04-04-1761
05-29-1776
05-01-1796
Israel
Comfort
wife Mary Flint
11-04-1740 &nbsp


10-13-1763
04-11-1835
11-03-1831
Lois
husband Joseph Baker
07-14-1742 &nbsp
11-18-1738 &nbsp

03-25-1762
after-1804
11-19-1804
Levi
wife Elizabeth Parker
09-17-1744 &nbsp
05-03-1751 &nbsp

10-15-1767


Rebecca
-1745 &nbsp
Reuben
wife Anna Barrows/Burrows
01-03-1745/46
-1745 &nbsp


03-21-1809
-1843
Jonathan
01-23-1748 &nbsp
Jessee
-1750 &nbsp
---
[HOME PAGE] [INDIVIDUAL NAMES] [SURNAMES] [FAMILY TREE]