GENERATION 6
---
---
Biography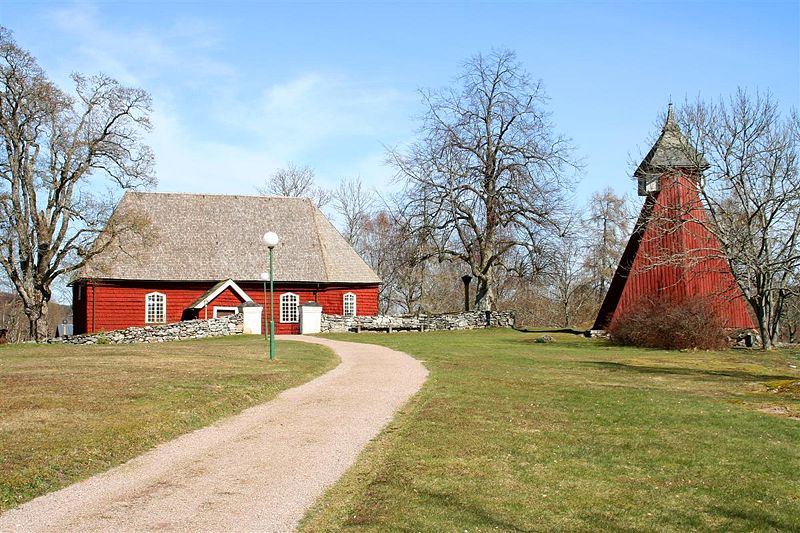 Fröskog Church
HANS ERIKSSON was born Jan. 7, 1753, in Säbyn, Ånimskog, Älvsborg, Sweden. KARIN MATTSDOTTER was born Sep. 29, 1773, in Östersbyn, Fröskog, Älvsborg, Sweden.
HANS died at Galmen in 1813, leaving KARIN with six children under the age of thirteen. Over the following years, two families of Ånimskog would find their lives closely entwined. The families were those of KARIN MATTSDOTTER (widow of HANS ERIKSSON) along with BRYNGEL LARSSON and STINA JACOBSDOTTER.
First, Johannes Hansson and Kajsa Bryngelsdotter would marry. This couple took in the young children (siblings of Johannes) left when HANS ERIKSSON died. Between 1822 and 1826, both BRYNGEL LARSSON and STINA JACOBSDOTTER died, leaving another family of young children without parents. These children (siblings of Kajsa) joined the already large family being cared for by Johannes and Kajsa. In addition, KARIN MATTSDOTTER (mother of Johannes) also moved in to help out.
Included among all those children were ERIK BRYNGELSSON and JOHANNA HANSDOTTER. About 1832, they married, becoming the second pair of siblings from these two families to do so.

________________________________________

Swedish Records

________________________________________

Where did they live?
| | | | | | | | | | |
| --- | --- | --- | --- | --- | --- | --- | --- | --- | --- |
| 1750's | 1760's | 1770's | 1780's | 1790's | 1800's | 1810's | 1820's | 1830's | 1840's |

Hans Eriksson
Säbyn
Galmen
Karin Mattsdotter
Östersbyn / ??
map of farms
---
Children
born
marr
died
all children born at Galmen, Ånimskog, Sweden
Erik
06-26-1793
06-15-1818
Johannes
wife Kajsa Bryngelsdotter
01-15-1801
10-05-1798




Magnus
02-10-1803
Stina Lisa
01-30-1806
05-24-1858
Kajsa
04-03-1808
JOHANNA CAROLINA HANSDOTTER
husband ERIK BRYNGELSSON
01-03-1811
04-20-1806



05-17-1861
Olof Fredrik
02-20-1813
---
[HOME PAGE] [INDIVIDUAL NAMES] [SURNAMES] [FAMILY TREE]