GENERATION 5
---
---
Biography
[photos courtesy of Corabelle Reuber]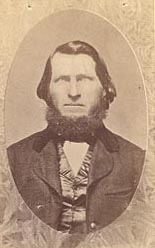 JONATHAN LINCOLN was born in Edmeston, Otsego, NY, on May 19, 1827. In 1844, he moved with his family to Winslow, Stephenson, IL.

He married LODUSKEY FACELIA KENNEDY, May 10, 1850. She was born at Eaton, Lorain, OH, Mar. 10, 1832, and, in 1845, came by way of the Great Lakes to Elkhorn, Walworth, WI. Two years later, the family moved to Winslow. She remained under the home roof until her marriage to JONATHAN, in 1850.

Together, they settled on the old homestead, and farmed extensively until resting from their labors. He was a man of great energy and industry, and at the time of his death owned 500 acres of valuable land with good improvements, including three sets of farm buildings. He took an intelligent interest in the welfare of his fellow citizens, and was a consistent and valued member of the Methodist Episcopal Church.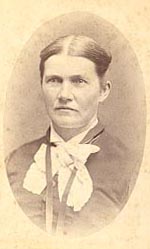 In her early life, LODUSKEY was very energetic taking an active interest in church work and social events in the community, and was ever ready to help in sickness and trouble. She was an active member of the W.C.T.U. for many years.
When the family moved into their new home in 1852, the largest room was reserved for religious services and was used as such until a larger place could be secured. She was for many years a steward in the Christian Hollow church and a member of the official board which recommended the minister. In early years the Christian Hollow church was privileged to great religious influence in the community.
"The remains were laid to rest in the little cemetery across from the church, where she had followed the majority of her loved ones to their last resting place".
In the 1860 U. S. Census, JONATHAN's real estate holdings were reported at $1,000. They increased to $25,000 by 1870, at which time he was described as a "retired" farmer at age 43.
JONATHAN's parents, JONATHAN and RUTH, were living with JONATHAN and LODUSKEY at the time of the 1860 census. JONATHAN's older brother, William, was also living nearby. All of them were living in Section 19 of Winslow township. In 1880, LODUSKEY's portion of the original acreage, was 94 acres. William owned 340 acres at that time.
LODUSKEY married second on Aug. 28, 1878, Samuel Crandall, of Rhode Island. He was born Apr. 16, 1825. Samuel had two children by his first marriage, Adelia and Caddie. Samuel died, Aug. 18, 1899. LODUSKEY continued to live at the Lincoln homestead until 1918, after which time she lived with her daughter, Nettie May, in Lena, IL.
________________________________________

James Edgar Lincoln
J. Edgar died young and is buried in the family plot in Christian Hollow Cemetery in Winslow.
________________________________________

Emeline Ada Lincoln
Emeline married David Emory Wire on Aug. 31, 1870. They had six children. She died in 1887, at age 32, of consumption (tuberculosis). After Emeline died, David moved to Kansas and lived with Emeline's sister, EFFIE, and WALTER JAY WILBUR, in Wichita. David died in 1938, and is buried at Waco Cemetery, Salem, KS.
________________________________________

Nettie May Lincoln
Youngest daughter, Nettie May, married Theodore Ellis and had three sons and three daughters:

                                   born           marr           died

Theodore Arthur Ellis           01-08-1891                    06-29-1968
  wife Amy Buss                 09-21-1894     12-20-1917     12-26-1986
Clarence Lincoln Ellis          03-28-1886                    04-13-1979
  wife Alta M. Zipse            05-24-1890     10-27-1915     07-11-1965
Edgar Allen Ellis               08-22-1888                    07-28-1984
Lola Loduskey Ellis             01-06-1893                    05-06-1981
  husband Julius F. Splinter    01-27-1890     12-23-1912     09-02-1965
Addie Bethel Ellis              12-19-1897                    04-02-1969
  husband George A. Buss        05-05-1893     09-22-1921     11-04-1949
Ruth Myrtle Ellis               07-27-1902                    11-19-1999
  husband Lloyd E. Carter       01-24-1903     11-10-1925     08-15-1945

________________________________________

Census Records


[click on link below, then click on census image to enlarge it]
| | | |
| --- | --- | --- |
| 1850 Winslow, IL Census | - | JONATHAN, LODUSKEY. and parents. |
| 1860 Winslow, IL Census | - | JONATHAN, LODUSKEY, EFFIE, and other children. |
| 1870 Winslow, IL Census | - | JONATHAN, LODUSKEY, EFFIE, and other children. |
| 1880 Winslow, IL Census | - | LODUSKEY, Samuel Crandall, and Nettie. |
| 1900 Winslow, IL Census | - | LODUSKEY, living with Nettie and her family. |
| 1910 Winslow, IL Census | - | LODUSKEY, living with grandson. |
| 1920 Lena, IL Census | - | LODUSKEY, living with Nettie and her family. |
---
born
marr
died
James Edgar
08-02-1852
02-01-1873
Emeline Ada
husband David Emory Wire
03-15-1854
08-23-1848

08-31-1870
02-16-1887
-1938
EFFIE MARIA LINCOLN
husband WALTER JAY WILBUR
06-17-1856
01-15-1854

08-12-1874
10-29-1921
03-20-1925
Nettie May
husband Theodore F. Ellis
12-20-1865
02-18-1860

11-05-1884
07-20-1925
07-16-1949
---
[HOME PAGE] [INDIVIDUAL NAMES] [SURNAMES] [FAMILY TREE]